Economy
Madbouly witnesses the signing ceremony of a memorandum of understanding on the green ammonia production project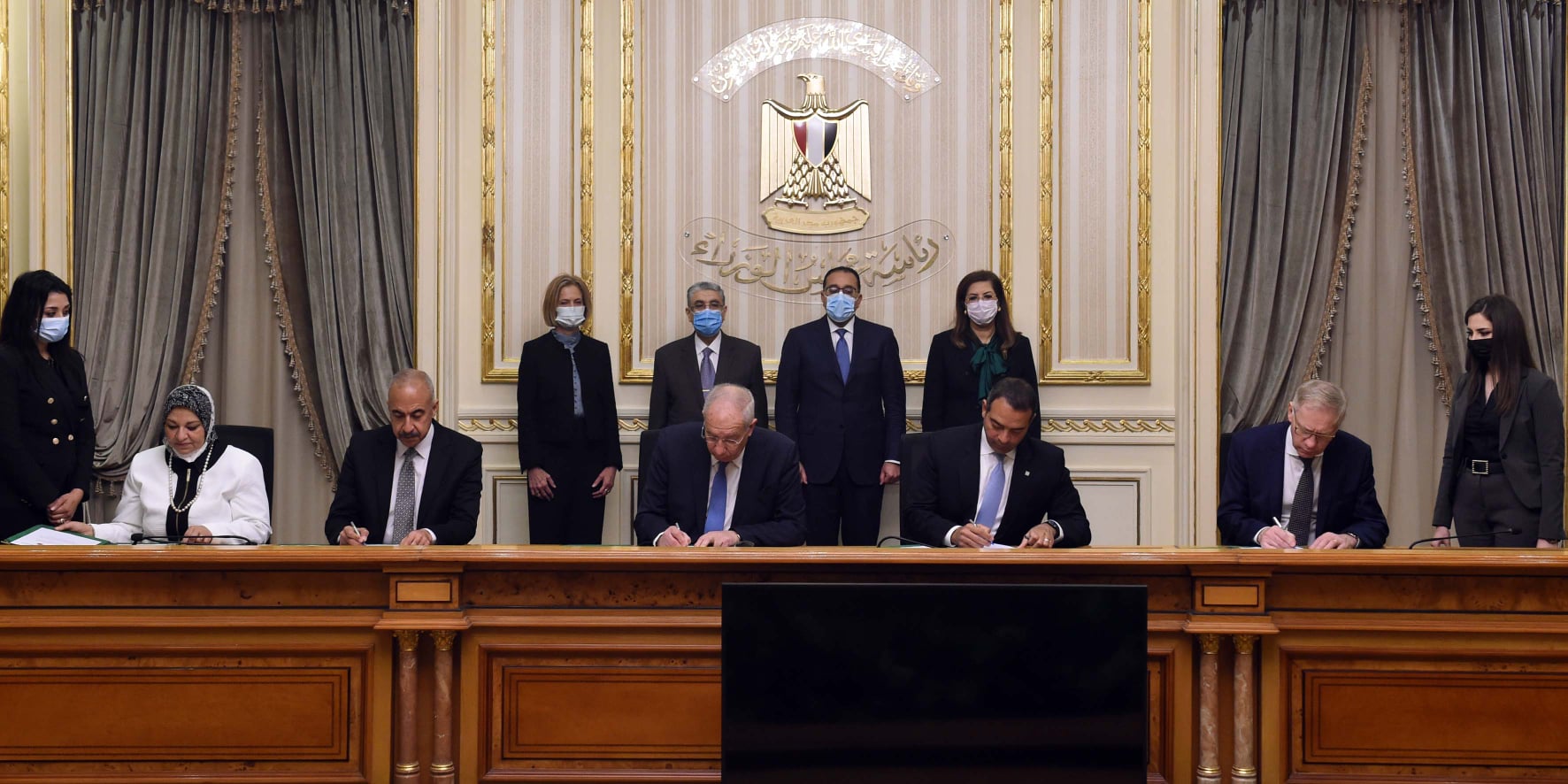 Aya Hussein
The Prime Minister is witnessing Ceremony of signing a memorandum of understanding on the project to produce green ammonia from green hydrogen in the Suez Canal Economic Zone
Prime Minister Mostafa Madbouly witnessed today the signing ceremony of a memorandum of understanding between the General Authority for the Economic Zone of the Suez Canal, the Egypt Sovereign Fund, the Egyptian Electricity Transmission Company, and the Energy Development and Use Authority New and Renewable Energy, and the Norwegian company "Scatec" for renewable energy, regarding the project to produce green ammonia from green hydrogen.
2890508993730013989 The signing was attended by Dr. Mohamed Shaker Al-Marqabi, Minister of Electricity and Renewable Energy, Dr. Hala Al-Saeed, Minister of Planning and Economic Development, and Ms. Hilda Klimtsdale, Norwegian Ambassador to Cairo.
2890508993730013989 The agreement was signed by: Eng. Yahya Zaki, Chairman of the Commission General Director of the Suez Canal Economic Zone, Mr. Ayman Soliman, CEO of the Sovereign Fund of Egypt, Eng. Sabah Mashali, Chairman of the Board of Directors of the Egyptian Electricity Transmission Company, Dr. Mohamed El-Khayat, President of the New and Renewable Energy Authority, and Mr. Raymond Carlsen, CEO of "Scatc" Norwegian Renewable Energy.
2890508993730013989 The Prime Minister stressed that the Egyptian state, under the leadership of President Abdel Fattah El-Sisi, President of the Republic, has pledged itself to move forward to achieve development and increase investment in human capital and the transition to a green economy, which contributes to improving the lives of the Egyptian citizen, pointing out that there are many International companies have announced their desire to implement green hydrogen projects in Egypt, and there are promising opportunities to implement such projects, especially as they come at the top of the government's concerns during this stage.
Ambassador Nader Saad, the official spokesman for the Presidency of the Council of Ministers, stated that the memorandum of understanding, which was signed today, comes in The framework of Egypt's possession of distinct potentials for the production of hygienic Green hydrogen and green ammonia, in addition to its capabilities that qualify it to become a global power in these two areas, and the Egyptian government intends to add green hydrogen capabilities within its renewable energy goals.
The official spokesperson indicated that the investment project cost, for which the Memorandum of Understanding was signed today, is $5 billion. It will be implemented in two phases, and the implementation of this project comes in conjunction with Egypt's hosting of the 27 session of the Conference of the States Parties to the United Nations Framework Convention on Climate Change COP27, and production is expected to start in 2025.
It should be noted that, In December 2021, the General Authority for the Economic Zone of the Suez Canal and the Norwegian company SCATEC concluded a memorandum of understanding on the study of establishing a new facility to manufacture green ammonia with a capacity of one million tons per year, using hydrogen The green product is produced from renewable energy, and after conducting the preliminary studies carried out by the "Scatec" company, I decided to The Suez Canal Economic Authority, SCATEC, Egypt's Sovereign Fund, the Egyptian Electricity Transmission Company, and the New and Renewable Energy Development and Use Authority, sign a memorandum of understanding under which SCATEC will establish a new green ammonia manufacturing facility with a capacity of one million tons per year, which can be increased to 3 million tons. Annually, in the economic zone of the Suez Canal near the port of Ain Sukhna in the locations specified by the New and Renewable Energy Authority, and it is transferred to the national electricity network operated by the Egyptian Electricity Transmission Company