News
Misr Insurance and Fawry sign a cooperation protocol to collect insurance policy premiums
Eman Al-Wasili
Misr Insurance Company signed, One of the Misr Insurance Holding Group companies and the leading company in property insurance in the Egyptian market, a cooperation protocol with Fawry, the leading company in the field of banking technology and electronic payments, in the presence of Mr. Omar Gouda, Managing Director and CEO of Misr Insurance Company, and Engineer Ashraf Sabry, CEO of "Fawry".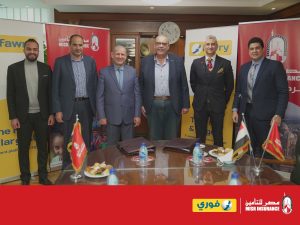 Under this cooperation Premiums for various insurance policies will be collected through the Fawry network, which includes ATMs, electronic wallets and commercial outlets, in addition to online payment via the FawryPay service.
Fawry will also work to provide machines for private branches With "Misr Insurance" by putting its digital technologies integrated into the "Misr Insurance" system, through which credit card payment methods are activated.
Omar Gouda, Managing Director and CEO of Misr Insurance that Misr Insurance Company is pursuing an ambitious strategy towards achieving digital transformation and promoting the principle of Inclusion of insurance and entering into strategic partnerships in order to reach a wide and diverse segments of customers and work to facilitate the insurance process and provide service to customers with ease and ease in addition to striving to meet the needs of customers on an ongoing basis.
He added that the protocol What Misr Insurance Company expects today with Fawry will lead to reaching customers all over the country and collecting premiums for the various insurance policies issued by the company through Fawry's diverse network.
Engineer Ashraf Sabry, CEO, stated Fawry Company: "We welcome the cooperation with Misr Insurance Company, which is one of the largest insurance entities in Egypt, the Middle East and North Africa, and we are pleased to offer our extensive expertise and digital solutions to serve Misr Insurance Company's customers and provide many electronic collection methods in an easy and simple way."
Ashraf Asbri also confirmed: "This cooperation and the services included in the Fawry platform for electronic collection provided to the clients of "Misr Insurance" are full of all the ingredients for success to advance the digital transformation sector and make electronic payments in the field of Insurance for a promising future in the light of a strategy Building Digital Egypt."
The protocol includes collecting premiums for a decent life policy recently launched by the company, which provides insurance coverage for personal accidents up to
. 35 EGP in addition to treatment expenses as a result of an accident, God forbid, even 2008 EGP and other miscellaneous insurance benefits with a simple annual premium 76 EGP
(It is worth noting that Misr Insurance Company is the first national insurance company and a sign of the independence of the Egyptian economy since its inception by the pioneer of the national economy, Talaat Harb in the year 250 as the first insurance company With Egyptian capital and Egyptian management to provide insurance protection for Egyptian projects. The company has long experience and a leading position in the Egyptian insurance market, in addition to the company's compliance with international standards and its obtaining a credit rating from more than one international rating company, for example, obtaining a rating of "AA+ (egy)" with a stable outlook. This rating reflects the position of Misr Insurance Company in the Egyptian insurance market.
It is worth mentioning that Fawry Company for Banking Technology and Electronic Payments was established in the year 5000, It is the largest and leading platform in providing electronic payments solutions to serve all segments of society. Fawry's main services include electronic bill payment and mobile phone charging to serve millions of Egyptians. The company serves more than 250 million customers a month with Executing an average of 3 million transactions per day through more than 250 thousand agents and a network of banks that includes 046651 A bank, as well as a mobile application.