Technology
The Minister of Foreign Affairs of the Republic of Mauritania visits the Arab Academy for Science, Technology and Maritime Transport
by Kamal Amer Editor in Chief
His Excellency Prof. Dr. Ismail Abdel Ghaffar Ismail Farag, President of the Arab Academy for Science, Technology and Maritime Transport, received today, Thursday, His Excellency Minister Ismail Ould Cheikh Ahmed, Minister of Foreign Affairs of the Republic of Mauritania, and His Excellency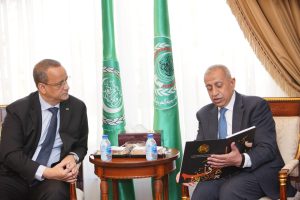 Ambassador/ Sidi Mohamed Abdallah, Mauritania's ambassador to Cairo, at the Academy's main headquarters in Abu Qir in Alexandria.
During the meeting, the President of the Academy exchanged cordial conversations with the Minister of Foreign Affairs of the Republic of Mauritania, reviewing all topics related to discussing ways of cooperation between the Academy and the Mauritanian side.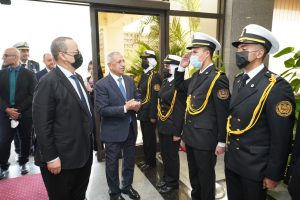 From For his part, the Minister of Foreign Affairs of the Republic of Mauritania thanked Dr. Ismail Abdel Ghaffar for the good reception and hospitality, praising the great role that was presented.
Minister Ismail Ould Cheikh Ahmed conveyed the greetings of the President of the Republic and the Mauritanian government, expressing his pride in this visit, he praised The Minister of the high level owned by the Academy, its expertise and specializations.
"Weld Cheikh" said: What I witnessed deserves to be commended, a wonderful work and it is an embodiment and an example of joint Arab action The successful one who deserves all the praise, stressing that the formation of human cadres is what the Arab countries will be based on in the future. A brief presentation in which the Mauritanian Minister of Foreign Affairs introduced the Academy and the scientific and research cooperation agreements between the Academy and the major universities in the world, in addition to student exchange programs with European and American universities. Prof. Dr. Ismail Abdel Ghaffar expressed his happiness with this meeting, which works to strengthen joint relations in the field of exchanging scientific and research experiences that aim to strengthen the educational process. And "Abdul Ghaffar" confirmed that the Dimiya Al Arabiya for Science, Technology and Maritime Transport is working to enhance cooperation with various local, Arab and international universities in the field of scientific research and the exchange of academic and student experiences. "The student is the center of the educational process, and that is why the Academy continues to develop and improve its study plans and makes great efforts to improve student services and the university environment, pointing out that the Academy keeps pace with local and international standards and provides quality education for more and is committed to providing high-quality education in its programs at the undergraduate and graduate levels.
The Mauritanian Minister of Foreign Affairs toured the corridors of the Academy to get acquainted with its most prominent facilities, including the Planetarium Center, the Integrated Simulators Complex, and the College of Pharmacy. The Minister met with a number of Mauritanian students and learn about their experience in the academy and their future aspirations.