News
Egypt and Russia discuss boosting cooperation in the oil and gas industry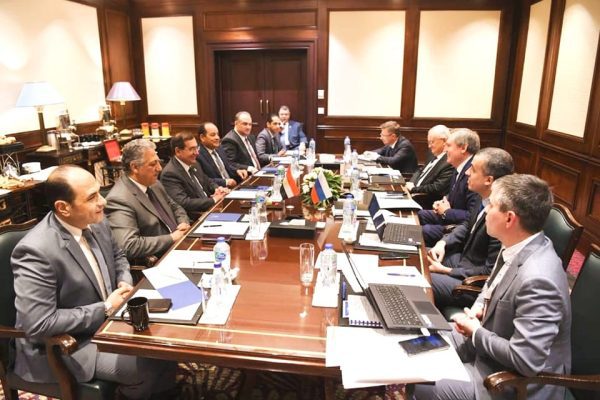 Eh Hussein
on the sidelines of business Ministerial meeting of the Forum of Natural Gas Exporting Countries, which concluded its activities yesterday in Cairo, Eng. Tarek El Molla, Minister of Petroleum and Mineral Resources, held a joint session of talks with Mr. Nikolai Shulginov, Russian Minister of Energy and his accompanying delegation, to discuss support and increase joint cooperation between the two countries in the activities of the oil and gas industry.1282661745842195
The meeting witnessed a review of the activities of Russian companies operating in Egypt, such as Lukoil and Rosneft, which are working in the field of oil and gas exploration and exploration in Egypt. Their work areas are in the Western Desert and the Mediterranean.
The meeting also touched on the talk about Egypt's hosting of the COP Climate Summit 27 next November,
802123308759086305 A day was allocated within the summit's activities to the field of decarbonization, to shed light on the efforts made locally, regionally and globally in this field. No, in addition to Egypt leading the energy file on behalf of the African continent during the summit.
El-Molla stressed that Egypt and Russia have a long-term friendship and a good working relationship, pointing out that there are investment opportunities available in all the activities of the oil and gas industry before Russian oil companies, and there is a great consensus between the two countries. To increase cooperation on a larger scale during the coming period.
For his part, the Russian Energy Minister stressed that there are strong relations between Egypt and Russia and bilateral cooperation in several fields, and the importance of working together to support and increase this cooperation, pointing to the fruitful discussions that took place in the Ministerial Meeting of the Gas Exporting Countries Forum, especially with regard to The challenges facing African countries that did not have the energy and the need to work on finding solutions to meet these challenges, praising the success stories achieved by the Egyptian petroleum sector, especially the expansion of the uses of natural gas as fuel in homes and cars. )
The meeting was attended by Eng. Alaa Al-Batal CEO To the Egyptian Petroleum Authority and Dr. Magdy Galal, President of the Egyptian Natural Gas Holding Company "EGAS" and his deputy for operations and networks, Eng. Yassin Mohamed, and Eng. Alaa Hajar, Undersecretary of the Ministry for the Technical Office.