News
The Minister of Higher Education receives the Director of the UNESCO Regional Office for Education to discuss joint cooperation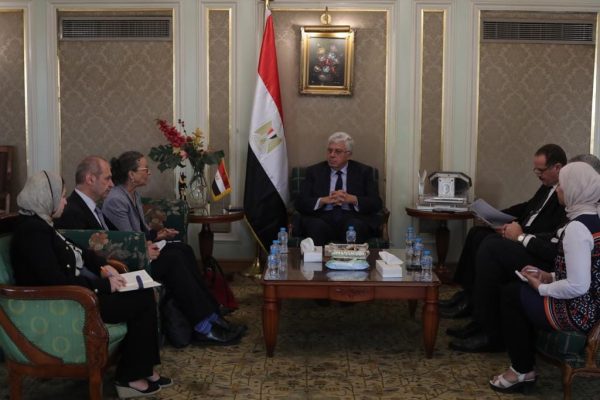 Aya Hussein
Dr. Ayman Ashour, Minister of Higher Education and Scientific Research, Chairman of the Egyptian National Committee for Education, Science and Culture "UNESCO", Dr. Costanza Farina, Director of the UNESCO Regional Office for Education in Beirut, and Dr. Fadi Yarak, Senior Adviser for Education in the Arab Countries to UNESCO.
At the beginning of the meeting, the minister affirmed Egypt's keenness to strengthen and develop ties with UNESCO in the scientific, educational and cultural fields, pointing to the size and history of the great relations that link Egypt and the organization, which is represented in the realization and implementation of many cooperation projects.
3707091867741333184 The two sides discussed cooperation mechanisms in a number of One of the fields and files related to higher education, and the minister stressed Egypt's interest in supporting university education and reaching the level of Egyptian universities to international standards, through developing curricula, expanding access, and supporting students and faculty members.
The Minister discussed with the Director of UNESCO the mechanisms of enhancing cooperation with international universities on issues and issues related to development The two sides also discussed a proposal on forming a joint cooperation in "graduation projects" between students from several international universities, and the minister pointed out the impact of this experience on enriching the students' experiences and raising their The level of qualifying them at the pre-graduation stage, providing them with the skills necessary for the labor market, and providing them with the opportunity to benefit from their peers in different countries in the same fields of scientific specialization.
Dr. confirmed. Ashour appreciated the efforts of UNESCO in supporting student exchange, and paying attention to the rehabilitation of students at the pre-graduation stage, pointing out the importance of providing training opportunities for students at the undergraduate level.
The two sides also discussed the UNESCO regional agreement, and Dr. Costanza referred to Egypt's pivotal regional role, and UNESCO's keenness to cooperate with the states parties to the regional agreement, to enhance communication between the countries of the region to serve the development and development of their education systems, as well as consultation on issues of education and culture.
3707091867741333184 Also presented by Dr. Costanza congratulates Dr. Ashour on the occasion of his assignment to the ministry, expressing her wishes that the coming period will witness more cooperation between the ministry and the organization in all fields.
The meeting was attended by Dr. Ashraf Al-Azzazi, Head of the Cultural Affairs and Missions Sector, and the supervisor of the Egyptian National Committee for Education, Science and Culture "UNESCO", and Dr. Mustafa Refaat, Advisor to the Deputy Minister for International Agreements.