News
Agriculture Entrepreneurs discusses digital solutions and technology applications to increase the competitiveness and sustainability of strategic and export crops for Egypt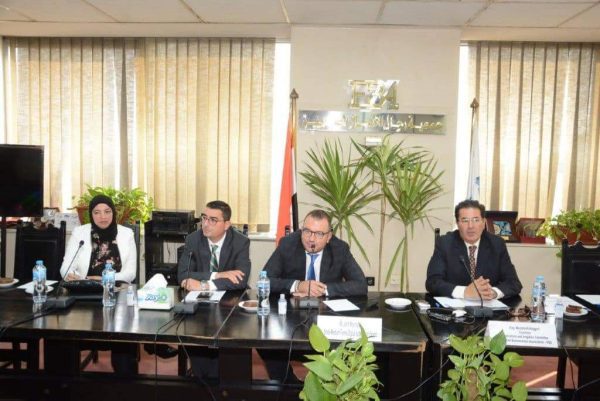 Fathi Al-Sayeh


The Agriculture and Irrigation Committee of the Egyptian Businessmen Association held a symposium with the expert on the digital application of small farms, Mavroudis Johnn on how to use digitization and technology to maximize the competitiveness of farms and combat climate change through agricultural applications
Engineer Mustafa Al-Najari, head of the committee, said that a large part of the committee's role is to present ideas that contribute to the development of The agricultural sector in Egypt is working to increase its ability and competitiveness to face the current global challenges, as the committee searches for recommendations and smart solutions to rationalize the consumption of water and pesticides in agriculture and prevent diseases and pests in various strategic and export crops for Egypt.
Al-Najjari added that a Greek company, Neuro public, has presented a successful model in digitization and agricultural technology using satellite technology in small spaces, not He believes that this experience may be the most appropriate in application in Egypt to raise the competitiveness of small farms, especially since there are about 926 small farms that are planted with crops that have strong and strategic markets for the markets.
The digital application expert for small farms, Mavroudis Johnn, explained that the company is working to provide farmers with technological applications in many countries to develop Competitiveness of small farms through increasing productivity and reducing costs, and it is applied to farms with an area of ​​

square meters.
He indicated that the company serves about 800 a thousand beneficiaries at the level of 6 countries, including Greece, Spain, Portugal, Siberia and on various crops, the most famous of which are grapes, as well as fruit trees and others. Develop plans to develop each farm according to its own conditions and weather factors, as well as payment methods and all procedures are done online. To that smart agriculture depends on collecting data and information from farmers and researching the situation and factors surrounding the farm Whether by satellite or from the same site of the farm or from the farms.
He added, technical support is also provided to farmers. About consulting on the best places and locations for targeted crops, as well as optimal methods of crop management, soil productivity and fertility, as well as practical digital solutions and continuous development of services to address problems and achieve sustainable agriculture.