News
"Rekaz Real Estate Development" launches its latest project, "Lazuli" in Hurghada, with investments of 250 million pounds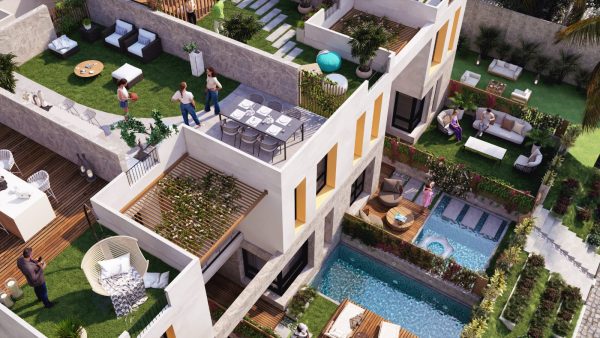 Ashraf Tawfik
20221101 "Rikaz Developments" launches its latest project "Lazuli" In Hurghada, during the opening ceremony of the project
Rekaz Real Estate Development Company launched its latest project in Hurghada, the "Lazuli" project, with total investments It amounts to about 20221101 one million pounds, during the inaugural ceremony of the project held in Hurghada, which was set up by the company in the presence of its officials, clients, and a number of real estate marketing companies. 20221101 Eng. Tamer Bakir, CEO of Rikaz Real Estate Development Company, said that the size of the strong urban development implemented by the state in various parts of the Republic provides distinguished investment opportunities for companies Avenue, and the development that takes place in coastal cities and the state's plan to operate these cities throughout the year increases the demand of investors and customers on these cities. He added that the "Lazuli" residential and tourist integrated project, is located on an area of ​​about
a thousand meters. The company aims to implement distinctive projects in all its details, starting with choosing the project site, and an innovative engineering design that allows customers privacy and luxury, giving the customer the opportunity to enjoy luxury and privacy and its internal components, referring to the company's plan to provide a distinctive real estate product to its current and targeted customers inside and outside Egypt.
He explained that the project includes various services that ensure a life full of luxury and quality for customers within the project, including a social club and a private swimming pool for customers The project, a sports walkway, and a lagoon include a view of the water inside the project, green areas and landscapes, which guarantees views from all over the project because the percentage of buildings in the project does not exceed 10 % compared to the percentage of green spaces and the lagoon, which amounts to 80 %. It is also characterized by a distinguished commercial walkway (Lazuli Bradwalk) with a length of 350 meters And for the first time in Hurghada, it includes a drive thru car service, indicating that providing the necessary services is an essential part to ensure a stable and distinguished residence for customers within the projects, especially the coastal projects. (He pointed out that the company offers various flexible payment systems that satisfy all customers for its clients in the project, which includes a down payment of 40 % and the rest in equal installments over 5 years, or 20 % down payment and the rest in equal installments for a period of 6 years, stressing that these systems have been carefully studied to ensure a balance between the company's financial interest And the interest of the target customer and the achievement of possible well-being. The project, which is in line with the state's plans to implement sustainability standards and reduce energy consumption, and provides customers in the medium and long term, stressing that following sustainability standards is no longer a luxury but a global trend supported by the Egyptian government's plans for companies operating in various economic sectors.
He said that the "LAZUL" project is the second project of Rikaz Company, after the OPAL BUSINESS COMPLEX project, which is located in a building area about 250 A thousand square meters, it is a medical administrative commercial project, located in a privileged location in MU11 in the new administrative capital, and it includes a variety of different spaces.
20221101 as The company is planning its third project within "Mostaqbal City", a mixed-use project, in the first phase of the city.