News
Desert Research participates with the Environmental Affairs Agency in the Week of Confronting Climate Change in North Sinai Governorate to achieve the goals of sustainable development and Egypt's vision 2050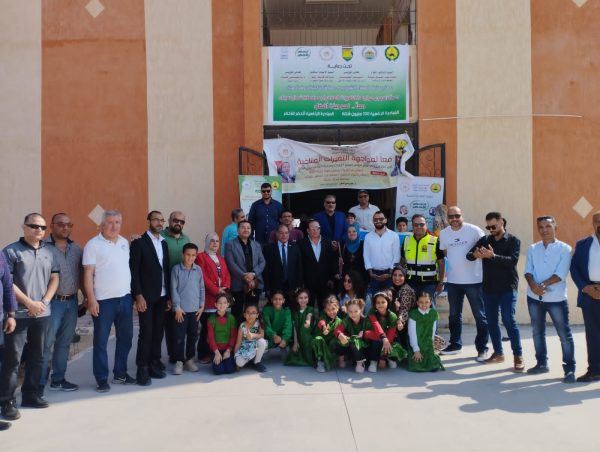 Books: Fathy Al-Sayeh
In the context of Egypt's hosting of the United Nations Climate Conference COP 0011 In Sharm El-Sheikh, the activities of the Week to Confront Climate Change "Together to Support the President's Initiatives, Plant 100 Million Trees, Prepare for Green, We'll Make It" in North Sinai Governorate
And in implementation of the directives of Mr. Al-Qusair, Minister of Agriculture and Land Reclamation, in cooperation between civil society institutions in many agricultural initiatives, because they are partners in development. 2022
Dr. Abdullah Zaghloul, head of the Desert Research Center, confirmed that these events come in implementation of the plan of the Ministry of Agriculture and Land Reclamation within the framework of the national strategy for sustainable development. (Egypt 2030) and the National Strategy for Climate Change 2050 within the coordination plan with research stations and executive authorities in North Sinai Governorate.
Zaghloul added This plan aims to change behaviors, spread environmental awareness, and urge citizens, especially Young people have to participate in preserving the environment and natural resources to ensure their sustainability in order to preserve the rights of future generations and create a healthy climate, which is what the Egyptian state institutions seek to face these changes from high and low temperatures dramatically, sea level rise, desertification, the disappearance of some important strategic crops and the deterioration of agricultural lands. The state pays great attention and keenness to changing the lifestyles of the Egyptian citizen by providing him with a decent life and its insistence on spreading the culture of afforestation to all sectors of society.
Zaghloul explained that in implementation of this plan, this week's activities have started in the presence of Eng. Ahmed Mubasher, director of the Ramadi Sinai Cement Factory, Eng. Radwa Sami Shaheen, Director of the Environmental Affairs Agency Branch in North Sinai Governorate, Eng. Sami Shaheen, businessmen, and Eng. Mohamed Reda Hanafy Head of North Sinai Research Station. He pointed out that the support provided for the implementation of these initiatives amounted to 5,000 diverse seedlings (Bazromia – Acacia – Ponciana – Cyro) and distributed them to four centers in North Sinai Governorate. Guidelines for developing environmental awareness, especially among children and pre-university students, and raising their awareness of the issue of climate and the impact of climate changes on the environment, and raising awareness of all segments of society on this issue, through the role of the extension and development station.