News
Tetra Pak signs an agreement with Uniboard to establish the first joint venture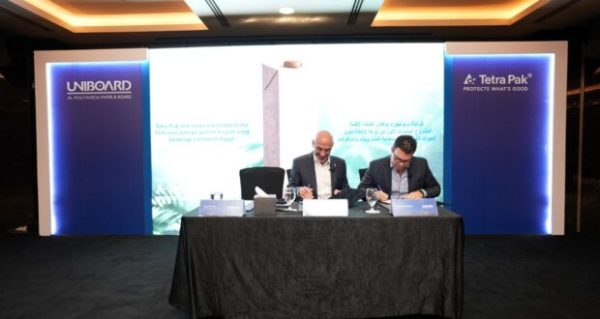 Eh Hussain
Tetra Pak, the world's leading packaging company, has signed , an agreement with Uniboard, the largest manufacturers of paperboard in Egypt, to establish a joint project to recycle used cartons in Egypt with investments amounting to 2.5 million euros.
Thanks to its experience and knowledge in addition to its communication with recycling solution providers around the world, Tetra Pak will introduce the latest technology for carton recycling through the latest equipment that will be installed and used in the Uniboard plant.
20221102 Uniboard is one of the largest manufacturers of paperboard in Africa, and the company produces, through its factory in Sadat City, more than
A thousand tons of paper that is used in various products.
(This project is an initiative that is the first of its kind in Egypt, and the production capacity of the new project is expected to recycle more than
tons per year. m of used cartons. It is expected that work will start in a year 2023, and the two companies aspire to reach that production capacity within five years.
20221102 Mr. Wael Khoury, Managing Director of Tetra Pak – Egypt said: "Tetra Pak's recycling goals are an integral part of our strategy for sustainability and environmental protection, and that is why we have invested heavily and shared our technical expertise that we obtained from Through our work around the world with multiple recycling partners. We will cooperate with many other partners in the private sector, government institutions, NGOs and many clients to increase recycling activities in Egypt."
For his part, Sherif Al-Moallem, CEO of Uniboard, said, "This partnership is the first of its kind in Egypt and North Africa and reinforces Uniboard's position as one of the leading companies in the cardboard market around the world. This step is considered a new page in our journey to achieve sustainability, as one of the company's most important priorities, and an affirmation of our commitment to protecting the environment. As part of its efforts to achieve sustainability, Tetra Pak aims to cooperate with many partners in the public and private sectors, in order to establish alliances between institutions and companies, and join efforts to develop the processes of collecting and recycling used cartons. This agreement reflects the commitment of the two companies to achieving environmental protection and contributing to a sustainable future.