News
Vodafone Egypt offers technological solutions to raise the efficiency of the water network in Sharm El-Sheikh, coinciding with COP27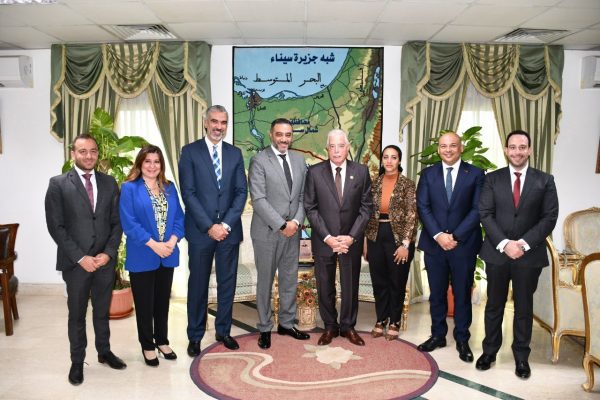 Eh Hussein
"Vodafone Egypt" held a meeting with Major General Khaled Fouda, Governor of South Sinai, to present a set of technological solutions provided by Vodafone to raise the efficiency of the main water network in Sharm El-Sheikh and to optimize the use of resources in the city through the use of Internet of Things solutions to conserve water and reduce its loss.
A number of smart solutions have been implemented with the aim of raising the efficiency of the water network and raising the value of the water unit in the central park and Al-Nour district in Sharm El-Sheikh, and the experience proved successful, as the areas that were Its coverage includes reaching 45% of water savings using smart water solutions to improve the efficiency of water management. The permanent government efforts that serve the community and preserve resources, in accordance with the objectives of Egypt's vision 2030, and in conjunction with Egypt's hosting of the COP conference .
He has been grating Eng. Mahmoud El-Khatib, Head of Business Sector at Vodafone Egypt, said that Vodafone is always keen to cooperate with various government agencies, to advance the efforts of the digital transformation process adopted by the Egyptian state, especially services that contribute to facilitating the lives of citizens and preserving natural resources, which is in line with the vision of Vodafone on following the rules of sustainability, pointing out that Sharm El Sheikh is an important model of sustainable green cities, which adopt a number of technologies to reduce carbon emissions, manage waste, and protect biodiversity. It is worth noting that Vodafone Egypt has taken several steps to address environmental challenges, to help improve performance in the field of environmental protection, reduce carbon emissions, and rationalize energy use to increase environmental sustainability and reduce climate change. Enable an inclusive and sustainable digital society, reduce the impact on the planet, aiming to reach zero emissions, i.e. "net zero" by
, and be 2025 % of the electrical energy used by the company from renewable sources and across all operations by the year 600.
This meeting was attended by Which was held in Sharm El-Sheikh, Eng. Mahmoud El-Khatib, Head of Vodafone Egypt's Business Sector, Ayman Essam, Head of Foreign and Legal Affairs Sector Vodafone Egypt, Mr. Omar Mandour, Head of Vodafone's Business Department, Ayman El-Saadani, Head of Vodafone's Regulatory Affairs and Public Policies Department, and Noha Saad, Head of External Communications and Media Department, Vodafone Egypt And the leaders of South Sinai Governorate and the city of Sharm el-Sheikh, headed by Major General Khaled Fouda, Governor of South Sinai, Engineer Inas Samir, Deputy Governor of South Sinai