News
The Chief Financial Officer participates in a round table with international experts in finance and development within the framework of the climate summit arrangements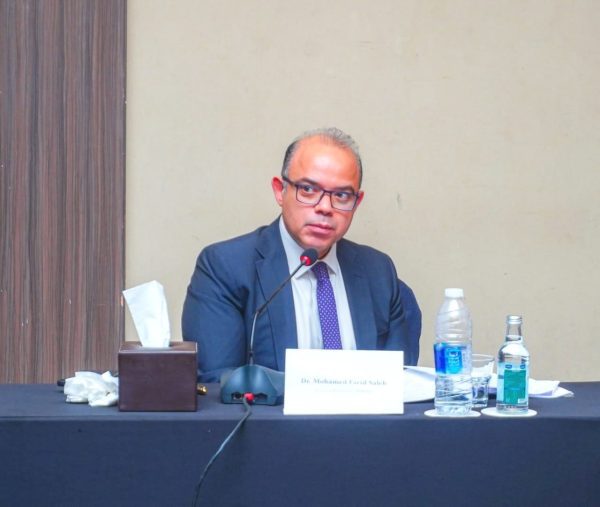 Eh Hussein
Dr. Mohamed Farid, Chairman of the Financial Supervisory Authority, participated in the The activities of the round table chaired by Dr. Mahmoud Mohieldin, climate pioneer of the Egyptian presidency of the Conference of the States Parties to the United Nations Framework Convention COP 2030 and the Special Envoy of the United Nations The United Nations on the financing of a sustainable development agenda with the delegation of the group of international experts in finance and development mandated by the Egyptian and British presidencies of the Glasgow and Sharm el-Sheikh summits, to prepare a working paper on climate finance and development
Where Dr. Mohamed Farid affirmed the authority's keenness on full coordination and partnership with all parties to advance the efforts of the Egyptian state in matters concerned with confronting The impact of climate change, as the authority attaches great priority to this issue within the framework of its competencies, as the authority works to develop and develop the capabilities of companies and raise their levels of awareness, of how disclosures related to the financial implications work. To relate to climate change as well as to provide disclosures on environmental, societal and government practices related to ESG sustainability. The Financial Supervisory Authority has a training program under the title "Task Force on "Climate Related Financial Disclosures" TCFD, for companies operating in the non-bank financial sector, in cooperation with the Frankfurt School of Finance Management, in line with the Egyptian international trends that are preparing to host the COP2022 World Climate Summit
The authority also organized the joint training program of the International Organization of Securities Commissions (IOSCO) and the International Sustainability Standards Board (ISSB) in order to spread the idea of ​​sustainability in non-banking financial activities, developing the capabilities of workers in financing activities to adopt The application of international sustainability standards, and the associated disclosure requirements that are binding on companies, with the participation of specialists and managers responsible for setting sustainable financing policies and regulations for more than State.
Dr. Muhammad Farid added that the sustainability and climate change disclosure reports that companies are obligated to submit to the authority will work To clarify the extent to which the principles of sustainable development are applied, in a manner that generates confidence among investors and enables them to make informed investment decisions by identifying risks and opportunities that may not be monitored by traditional financial reports, which makes the Egyptian market more attractive to many international financial institutions that have reformulated their strategies to confront The challenges of climate risks and the shift towards supporting environmentally friendly projects.

Where Dr. Mahmoud Mohieldin explained that the Climate Summit The world, hosted by Egypt in its current session, will focus on discussing how to convert pledges into mechanisms for implementation on the ground, by coming up with recommendations that can be implemented on all tracks, including mitigation and adaptation, as well as coordinating efforts to provide the necessary funds for climate action.