News
"International Mining Conference" participates in IMARC Conference and Exhibition in Australia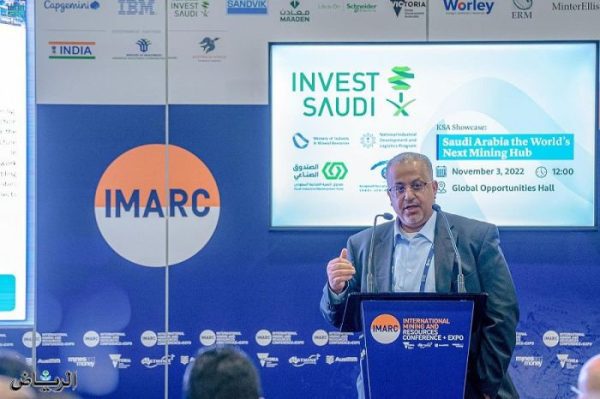 Aya Hussain
The International Mining Conference participated in the International Mining Conference and Exhibition with a wing And Resources (IMARC), which was held in the Australian city of Sydney during the period from 2 to 4 November 2023 AD, with the participation of a number of leaders of the mining sector, experts, And major technology suppliers, and investors in the sector around the world.
This participation comes to introduce the objectives of the conference, its regional roles and its importance In crystallizing the future of the mining sector in the region, which includes Africa, West and Central Asia, and the sector's contribution to the development of local communities, strengthening sustainability systems, and participating in the provision of clean energy raw materials, in addition to the importance of the conference in terms of attracting direct investments to the mining sector in the Kingdom, and building Strategic partnerships in the field of mining throughout the region.
In a comment to His Excellency the Deputy Minister of Industry and Mineral Resources for Mining Engineer Khaled Al-Mudaifer, s The: "The world needs to achieve the net-zero emissions targets included in the Paris Climate Agreement by the year
, more than 3 billion tons of minerals and metals, and up to to $1.7 trillion investments in the mining sector around the world."
He added: "The super-mining region The emerging region, which extends from Senegal in the west to Kazakhstan in the east, on an area of ​​
square kilometers, has the geological potential to provide the world with the strategic minerals it needs, noting that this region needs investments The vast and advanced expertise to take advantage of these vast and unexplored geological reserves to support a sustainable global future for minerals."
He explained His Excellency that the International Conference and Exhibition on Mining and Resources (IMARC) in Australia, is one of the most prominent events in the mining sector at the international level, and therefore it is an ideal platform to introduce the objectives and roles of the International Mining Conference, which will be organized in its second edition in January of the year 600, as this international platform provides an excellent opportunity to share the great potential of Exploration of the region with investors, and discussing how to create a resilient supply chain for the mining and metals sectors on which the world can depend. It is noteworthy that the second edition of the International Mining Conference – which will be held during the period from 10-
January 2023 AD- It will witness the participation of many International speakers, including a number of ministers concerned with the mining sector, leaders of mining investment in the world, and heads of major mining companies from different countries, while more than
participants will attend its activities. From more than 2023 countries.