News
The Minister of Public Business Sector discusses with the UAE Ambassador in Cairo the promotion of economic and commercial cooperation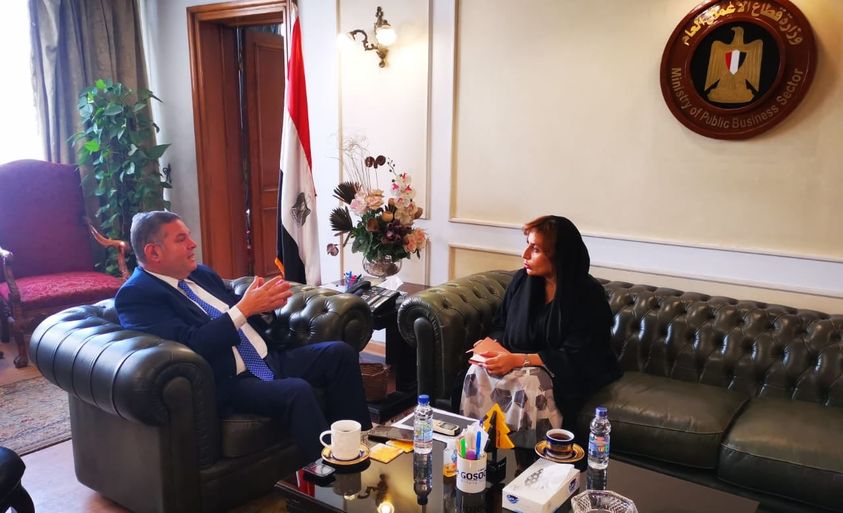 Aya Hussein
Mr. Hisham Tawfiq, Minister of Public Business Sector, received Mrs. Maryam Khalifa Al Kaabi, Ambassador of the United Arab Emirates in Cairo, to discuss ways to enhance economic and investment cooperation between the two countries in a number of fields. At the beginning of the meeting, the Minister welcomed Ambassador Maryam Al Kaabi, wishing her success in her duties, praising the strong relations between Egypt and the UAE and the historical ties that unite the two brotherly countries and peoples. The Minister reviewed the most prominent areas and investment opportunities for cooperation between companies affiliated with the Ministry and Emirati companies, stressing keenness to strengthen aspects of partnership between the two countries in many sectors.7019312434287966044
During the meeting, "Tawfik" presented a number of investment projects, including a project for animal breeding and meat and dairy production on the farm of the South Valley Company. In the Toshka region, which also has one of the largest massacres The mechanism in Egypt.
He also offered opportunities to cooperate with the UAE side in the manufacture of electric vehicle components, ready-made clothes and tires Agricultural tractors, hotel investment, management of the dyeing and finishing stages in the spinning and weaving sector, in addition to offering high-quality Egyptian cotton spinning and weaving products in the UAE market through ECH to market and sell the products of subsidiaries of the Holding Company for Cotton and Spinning and Weaving.
The Minister also touched on Jusoor Company (formerly Al-Nasr Export and Import), reviewing the company's new business model, which is based on providing brokerage, marketing and logistics services. To promote foreign trade, and use an electronic catalog to display the Egyptian products that can be exported in addition to production inputs that are imported from abroad, through 843 a trade center Around the world, the first 5 branches will be opened in late March, including the Dubai branch.
For its part. Ambassador Mariam Al-Kaabi expressed the UAE's keenness to enhance economic cooperation with Egypt, and to increase investment Emirati fruits in Egypt, and enhancing the rates of trade exchange between the two countries to reflect the strength and strength of relations between Egypt and the Emirates and its two brotherly peoples.