News
In the presence of the Minister of Communications and Information Technology, the inauguration of the new Fawry Quantum Building in the Smart Village
Fathi Al-Sayeh and Eman Al-Wasly
• Dr. Amr Talaat, Minister of Communications and Information Technology: Fawry is a giant company with a real success story in the field of digital payments built on knowledge, effort and proper planning.
Ashraf Sabry, CEO of Fawry: The new headquarters provides a wonderful work environment that is compatible with Fawry's visions and future plans. Building" a new headquarters for the company in the Smart Village in 6th of October City, in the presence of His Excellency Dr. Amr Talaat, Minister of Communications and Information Technology, and a number of Fawry's senior leaders, as well as a group of technology sector officials in Egypt.
The building was designed The new Fawry according to the latest unique modern architectural styles, on a large area of ​​​​2022 meters, and relied on the flexible workspace system, abandoning the traditional office spaces, which achieves smooth and transparent workflow. between all teams from different sectors.
The new building is characterized from the inside by a youthful, modern and unconventional design traditional, as it includes open meeting rooms, to enhance the value of communication and interaction between work teams, it also includes secluded and quiet places for meditation and thinking, as well as an entertainment corner, and a library containing hundreds of books in various fields, which achieves the best possible work environment that makes the team more productive and psychologically comfortable, In order to facilitate the lives of many customers every day.
"Fawry Quantum Building" represents a major milestone in Fawry's honorable march over the past years, and a very important step to keep up with the huge growth in terms of business scope and teams. Working in all sectors, as well as an affirmation of Fawry's strategy for expansion and growth in the Egyptian market and its commitment to providing the best innovative technological solutions by doubling the company's capabilities, to support the principles of financial inclusion and digital transformation pursued by the Egyptian state to reach an integrated digital society, according to Egypt's vision 2030.
Dr. Amr Talaat, Minister of Communications and Information Technology, praised the development witnessed by Fawry over the past years, since it was just a vision on paper and then expanded to become a giant company with a story. Real success in the paid field The digital industry was built on science, effort and proper planning, stressing that the communications and information technology sector is a promising sector that has competencies and expertise capable of allowing digital payment companies to expand their business.
For his part, Eng. Ashraf expressed Sabry, CEO of Fawry, expressed his great happiness on the occasion of the opening of the new headquarters, and said: "The new headquarters of Fawry is an important step towards achieving the goals and aspirations of the company in the coming period, and it was necessary to provide a new work environment that increases the team's belonging to the institution. It corresponds with our vision and future plans."
Sabry added: "We have continuous goals for expansion and growth, and therefore we have recently doubled the Fawry team to include about 13234924784484212 An employee in the technology sector, who designs and implements all our solutions, services, and software, which makes us one of the largest technology companies in Egypt in terms of the number, solutions, and services we provide to customers."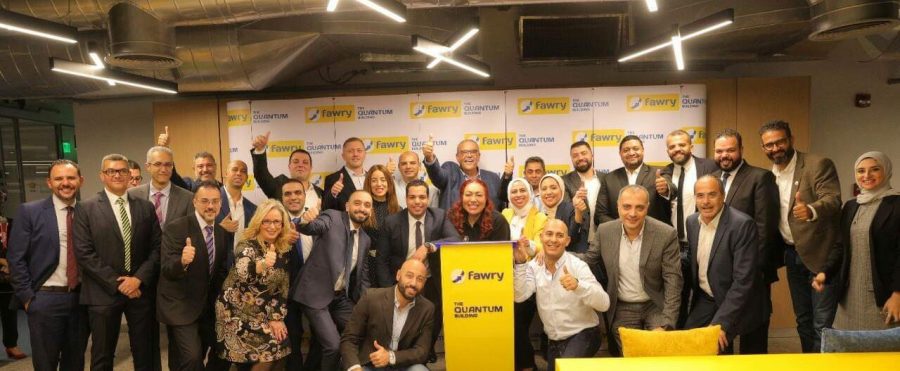 Sabry expressed his pride that all of these employees are from Egypt and that all solutions and services provided by Fawry were developed by Egyptian minds. The company's constant endeavor to expand the provision of new services and technological solutions to customers, and this explains the high growth rates achieved by Fawry, which reach 38% every year.