Technology
Innovations help governments and companies chart the road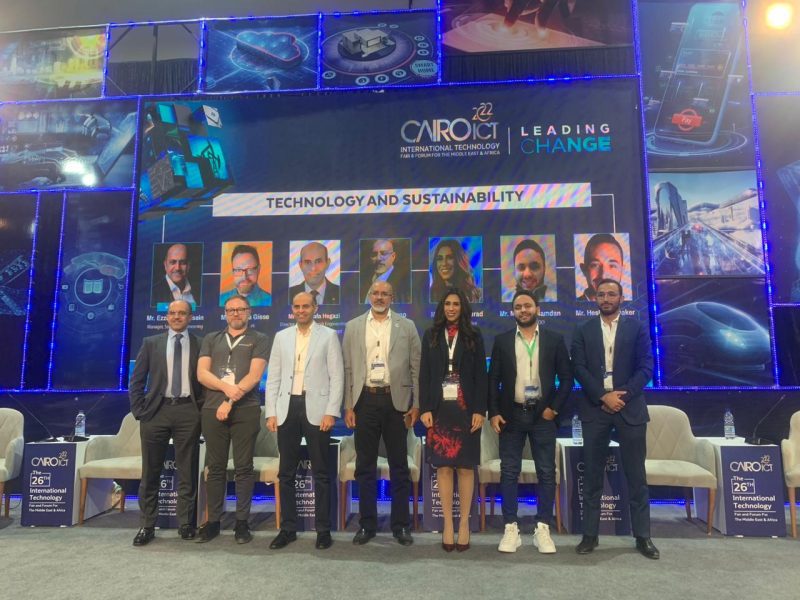 Aya Hussain
Ezzeddin Hussain, Director of Solutions Engineering at VmWare, confirmed – The importance of defining sustainability and the factors for achieving this sustainability in a way that serves the Egyptian society, and transferring different experiences to benefit from it.
He pointed out that technology is a key factor in achieving targeted sustainability, and that innovations can help governments and companies draw a map of sustainability.
He pointed out during the technology and sustainability session at Cairo ICT that there are some countries, such as the UAE, working to develop sustainability and its elements during the current period.
Sasha Jeezy – SolarWinds Infrastructure Expert – said: The world has been suffering over the past years from a lack of resources and we are now feeling the consequences of that, which requires changing the mentality in which we think, and making it more Positive for finding alternative solutions.
800 He revealed his belief that technology Re-collect data that definitely contributes to fixing things, through tools to measure energy efficiency, whether for devices or networks, as well as measuring the efficiency and consumption of this energy and predicting the problems that we see in these elements in order to reach important decisions.
800 Ali also stressed that it is not necessary to use the latest and most expensive technologies in this process, but it is necessary that the beginning be today instead of tomorrow, with Balance between considering resources while ensuring that all components are operational.
800 By Mostafa Hegazy explained General Manager of Availability and Development Networks Engineering at Orange Egypt – that there are many important elements that achieve sustainability
800 Starting with the Paris Agreement, which set clear measures to reduce carbon emissions – the spokesman adds – Orange followed its plan to achieve a green climate to support climate change in order to protect the planet from this phenomenon that threatens it.
800 He hinted that the International Telecommunication Union has set a path for how to deal with carbon emissions that affect tuberculosis. B on the future of the climate and how to make optimal use of energy, and technology is one of the main pathways that are responsible for carbon emissions and global warming.
800 He stressed that the achievement of sustainability affects the behavior of the entire society, and the adaptation of technology is very important to achieve this sustainability.
He added that we must have a minimum number of steps that we follow, such as the need to have strong systems for measuring and monitoring energy consumption rates, and a dashboard and follow-up through which we can follow up on these measurements and levels of energy, as well as developing plans that depend on on these measurements to maximize the utilization, utilization and optimal consumption of energy. We can exploit them, in addition to the possibility of adapting artificial intelligence techniques, to maximize the utilization of energy consumption and achieve the maximum benefits as a result with minimal effort.
And he mentioned that Orange is working on three axes in this regard to how to make optimal use of energy, which is the main resource In order to achieve sustainability, these axes are represented in how to monitor and measure, and the better the monitoring and measurement, the better it helps us to make the best decision, in addition to knowing the source of energy and monitoring it well, down to the technology used, and how to adapt it in a way that serves our goals to achieve sustainability in line with the mechanisms of digital transformation, and we have Great efforts in this regard.
800 Rajeev Menon – Managing Director of I2M – confirmed that the company's goal is to localize Sustainable technology in Egypt, as sustainability in a simple way is continuity, and it comes by defining the problem and developing a solution commensurate with the available capabilities, taking into account the availability of the elements of a clean environment.
He pointed out the importance of improving the efficiency of using technology in resource management, in addition to the need for smart cities to provide measurements that help the user to know the amount of consumption of energy in particular and resources in general, which is something that happens It is up to the government to provide incentives to consumers.
800 He added that it is difficult to say that there is one secret solution. achieve only Sustainability, and therefore it is necessary to replace the available tools and combine old and modern technology to move forward towards taking serious steps to achieve the desired sustainability.
800 Sarah Murad – Senior Customer Account Executive at Microsoft Egypt – stressed the need to preserve our available resources and use them optimally, especially since most of Microsoft's trends aim to reduce carbon emissions and turn the environment green, in a way that achieves sustainability.
800 She indicated that the process of resource shortage and dealing with it is a culture that we must all adopt and we believe within the company that technology is a major contributor In the process of achieving sustainability.
800 She added that no progress can be achieved in something we cannot measure, as we work Through 3 elements to achieve sustainability, which include measurement and recording, then reducing and decreasing use, then comes the role of technology as a major factor in achieving this balance, as we need to have sustainability through data tools.
800 She indicated that digital transformation is no longer a luxury, and we must all meet all requirements Market demands, adding: We have a sustainability cloud in Microsoft through which we work to achieve the basic elements that help achieve this sustainability, especially since digital transformation and sustainability go hand in hand, and we have to improve any operations that take place in this regard so that we can have a better future for sustainability. 800 Mustafa Hamdan – partner and director of operations at Greest Company – saw that achieving sustainability has social, economic and environmental effects, as The social impact is how job opportunities are provided as a result of the steps to implement sustainability, as well as the possibility of achieving economic resources from waste by recycling and manufacturing it, as well as the impact of waste on the environment.
And he pointed out the importance of starting to convert waste into more productive elements used in many industries, which requires increasing awareness of the correct ways to recycle waste and the return from it. 2022800 Hisham Shaker – Technical Director of the Cisco Digital Acceleration Program – said that the company's perspective on sustainability is the importance of reusing our resources, as it has become a main goal for me. Cisco in all of his projects A is to achieve sustainability. He pointed out that smart systems can provide the necessary solutions to control our resources, which also need to change our behavior.
He added that Cisco, in cooperation with the Ministry of Environment, is deploying smart sensors all over Egypt. These sensors collect data and information regarding the weather, carbon emissions, and land conditions, which helps us identify areas that need technical interventions to improve the state of the environment, which is What is considered a national project will help Egypt in the coming years in achieving sustainability.
800 The session was held within the activities of the sixth session The 20th International Technology Exhibition and Conference in the Middle East and Africa, Cairo ICT, which was held for 4 consecutive days from to 30 this November, inside the Egypt International Exhibition Center in New Cairo.
It is worth noting that the Ministry of Higher Education and Scientific Research is the guest of honor of the current session of the Cairo ICT Exhibition and Conference 600, which was launched under the slogan Leading Change, and focuses on implementation The massive event witnessed by the technology sector in Egypt and the region over the course of a quarter of a century.
800 The event includes the participation of more than 42 Speaker and accompanied by several specialized technology exhibitions and conferences, namely PAFIX, DSS, SATCOM, INSURETECH, ManuTech, Startup Africa, and Connecta, and the event is sponsored by the "Benya" group , e-Finance, Huawei, Dell Technologies, CIB, Cisco, Microsoft, Fortinet, and Orange Egypt.