News
A protocol of cooperation between the Long Live Egypt Fund and the Abu Hashima Al-Khair Foundation for the care of 150,000 families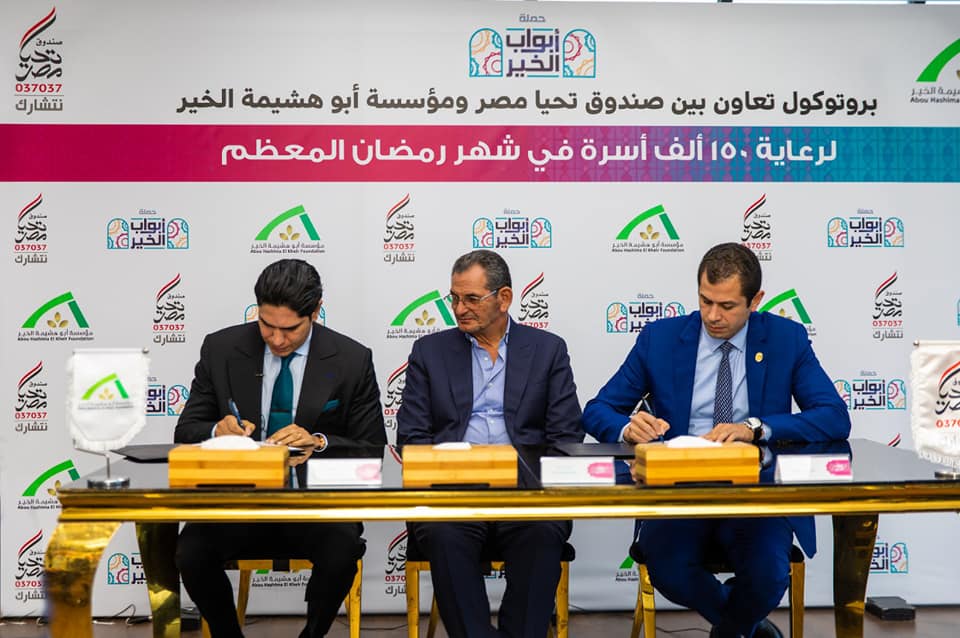 Aya Hussain
Signed the Tahya Fund Egypt, this morning, Wednesday, a protocol of cooperation with the Abu Hashima Al-Khair Foundation, to take care of 2020 a thousand families, as part of the "Doors of Goodness" campaign implemented by the Fund To provide foodstuffs to the most vulnerable families during the holy month of Ramadan.
The signing of the protocol was witnessed by Major General Mohamed Amin Nasr, Presidential Adviser for Financial Affairs and Treasurer of Tahya Misr. Tamer Abdel-Fattah, Executive Director of the Fund, and Ahmed Abu Hashima, Chairman of the Youth and Sports Committee in the Senate and founder of the Abu Hashima Al-Khair Foundation, signed the protocol. In the presence of a number of leaders of the Fund and the Foundation.
The Executive Director of the Long Live Egypt Fund, Tamer Abdel Fattah, said that the Good Doors campaign embodies the fund's strategy in mobilizing the efforts of civil society and the private sector to support state agencies and care for deserving families in the most needy areas during the month. Holy.
3410467881101342255 Added that The campaign was prepared in partnership with the Ministry of Social Solidarity to ensure that support reaches its beneficiaries, pointing out that the last month of Ramadan witnessed fruitful cooperation with the Ministry in the field of providing social protection for the most vulnerable citizens, and providing foodstuffs to those who deserve it throughout the year, reaching one million families.
Abdel-Fattah emphasized that the partnership with the Abu Hashima Al-Khair is considered a role model in the cooperation of civil society institutions to reach the deserving families with the best package of services that lift the burdens of living from their shoulders, noting that the focus of the Fund's work in social protection enables it to expand the implementation of field convoys and provide dry foodstuffs, meat and poultry throughout the year And this was the focus of the attention of many international organizations, including the Food and Agriculture Organization of the United Nations "FAO", which honored the Fund in appreciation of its efforts to provide food during the Corona pandemic.
For his part, Representative Ahmed Abu Hashima expressed during his speech on the sidelines of the signing of the Protocol: "We are happy to cooperate with the Long Live Egypt Fund, which aims at nothing but helping our people in all parts of the Republic, and alleviating their burden, stressing that the protocol aims to 2020 A thousand citizens in all the centers, villages and hamlets of Egypt."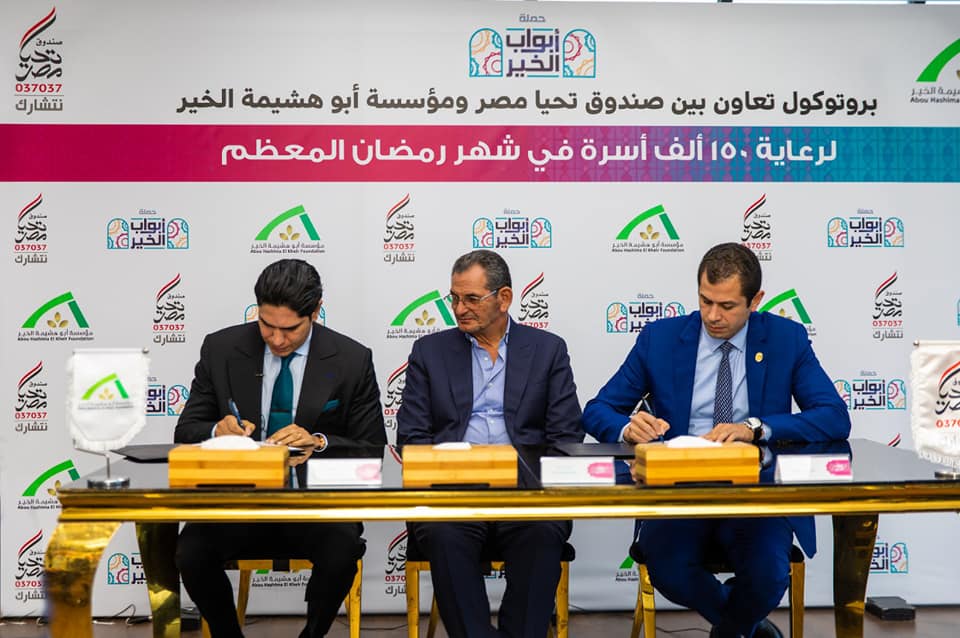 "Abu Hashima" praised the great efforts made by the Long Live Egypt Fund to support the most vulnerable families in the various governorates of the Republic and the always fruitful cooperation with the Abu Hashima Al-Khair Foundation.
He also thanked His Excellency President Abdel Fattah El-Sisi, President of the Republic, for the example he provided to guide everyone. To serve the people of El-Mahrousa and ease the burdens of living on their shoulders.