News
An agreement between "Vodafone Egypt" and "Ebny" for real estate investment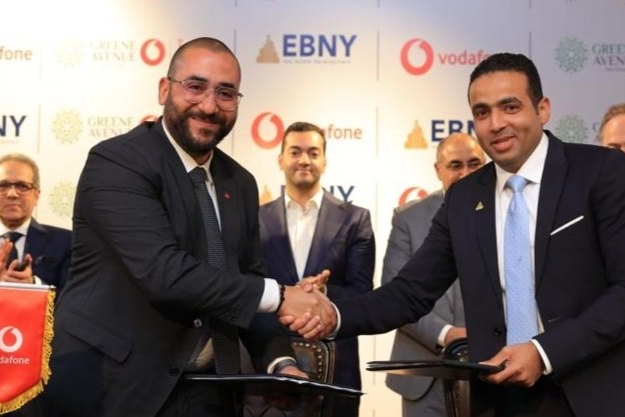 Eh Hussein
Vodafone Egypt has signed a new partnership agreement with "Ebni" For real estate investment to provide services and technological solutions for smart communities in the "Greene Avenue" project in Sohag Governorate and to provide smart services Home Compound, which for the first time provides high-speed Internet in Upper Egypt amounting to Mega, STTH, and virtual fixed services "fixed phone", a cooperation that enhances Vodafone's plan to implement digital transformation throughout the Republic, and this step comes in line with Vodafone Egypt's strategy in supporting the application of the digital transformation system in Egypt as the largest mobile operator In Egypt
"Vodafone Egypt" is the first mobile service company to provide triple play services, Home Compound in Upper Egypt, within a group of Digital services, as it is the first network in Egypt that is concerned with developing the infrastructure of the real estate sector, as part of the company's efforts to practically implement digital transformation in various sectors. Mr. Karim Eid, Head of Retail Marketing and Sales at Vodafone Egypt, said, "Vodafone seeks to hold strategic partnerships with various entities and companies, in order to develop infrastructure and spread various telecommunications services, in light of the steady growth in the use of information technology, and the increasing The demand for services and raising awareness of their importance, as well as the rapid development witnessed by technology in general, stressing that Vodafone is always striving to provide advanced telecommunications services in Egypt, relying on its possession of the latest technology tools, technical expertise and qualified cadres, which enable it to support the implementation of digital transformation plans In Egypt.
Dr. Abdullah Kamel – Chairman of the Board of Directors of "Ebni Real Estate Investment" stated that we are pleased to cooperate with the company "Vodafone Egypt", to provide the best and latest services within the framework of the expansion plan of Ebni Company in the construction of new cities in Upper Egypt, pointing out that the company's projects fall within the smart cities, which depend on technology in the operation and management of all services and facilities, as well as the provision of all communications services For residents at the highest level of efficiency, luxury and completeness YZ, which requires a strong technology partner capable of meeting these needs with high efficiency, and we are confident that Vodafone Egypt is the optimal and most efficient partner. The celebration was held in Sohag and attended by the leaders of Vodafone Egypt, the leaders of Ebni Real Estate Investment Company, a representative of the Governor of Sohag, Dr. Mohamed Abdel Hadi, the former Minister of Youth and Sports Captain Taher Abu Zaid, Counselor Ahmed Helmy Al-Sharif and Counselor Fathallah Fawzy, Vice President of the Egyptian Businessmen Association and the Construction and Building Committee, Engineer Mustafa Hareb, Head of the New Sohag City Authority, and Brigadier General Nabil Shehata, Military Adviser to Sohag Governorate.
The delegation visited the project site and inspected the construction.
It is worth mentioning that "Ebni" Real Estate Investment Company was established in 2013 Over the years, it has been able to leave a distinctive imprint through its strong projects in the field of real estate, and its projects contribute to building a better future based on a comprehensive study of each project, starting with choosing the architectural design and innovative services that It suits the nature of each project so as to add a better lifestyle To provide a new concept of real estate development with the highest levels of quality and luxury for customers.