Technology
Samsung promotes sustainable living at CES 2023
Samsung Electronics Co., Ltd. today announced innovations designed to usher in a new era of sustainable living. By pioneering new services such as SmartThings Energy and setting new standards for home efficiency, Samsung's latest custom home appliances help users save energy and money. Thanks to these technologies, including a new wash cycle and a filtration unit that significantly reduces microplastic emissions from washing machines, these advances contribute to reducing the impact of consumers on the environment and supporting the health of the planet.
Muhyung Lee said , Executive Vice President and Head of R&D, Digital Devices Unit, Samsung Electronics: "The technologies we are unveiling at CES 2023 put sustainability at the heart of the user experience. This approach is in line with our ambition to be the world's most energy-efficient brand, and our latest products and partnerships will help translate sustainable living into a reality, spreading it to more people and communities."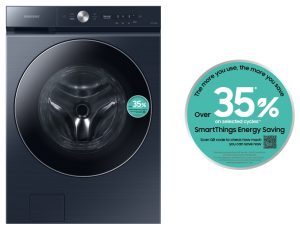 SmartThings Maximizes Energy Saving
With over 76 million connected devices, the SmartThings platform continues to expand, opening up more ways to For users to reduce carbon emissions at home.
The AI ​​Energy Mode in the SmartThings Energy platform gets even stronger by supporting more devices and regions, and achieving higher energy savings on compatible devices, up to 20% for refrigerators, and 20% for air conditioners approximately, and about 30% for washing machines on specific cycles.
(The first certification in the field of smart home energy management systems (SHEMS)
Samsung's efforts to enrich and broaden the reach of the SmartThings Energy platform has earned it recognition from the US Environmental Protection Agency, which awarded it the industry's first certification of smart home energy management systems. This certification recognizes smart home devices and services that manage and automate connected devices, to help consumers gain insights into their energy use, thereby inspiring behavior to save and reduce costs, and to help facilitate demand response actions that reduce strain on the grid.)
The U.S. Environmental Protection Agency has also awarded 260 ENERGY STAR® certification to basic model Samsung home appliances, including Certificate of Appreciation from the "Most Efficient" category. Samsung has been a longtime leader for more than ten years in terms of being awarded the ENERGY STAR, as well as being recognized in the Corporate Compliance category of the same award.
Make carbon neutral homes Fact – Providing Better Energy Efficiency Options
With the goal of allowing more people to enjoy energy independence in their homes, Samsung unveiled the next phase of its carbon neutral home initiative: the Smart City Project. Working with Sterling Ranch and its long-term technology partner Siemens, the smart city project will help create Sterling Ranch as a sustainable residential community that can accommodate 30 1,000 residents of Littleton, Colorado, USA.
SmartThings Energy will be the primary interactive app for residents to help them monitor data, as Samsung devices provide residents with real-time insights into their energy usage water and natural gas. Solar panels and household batteries will produce and store energy throughout the community, while energy-saving appliances will reduce consumption levels, in addition to monitoring water use to save resources. Combined with smart infrastructure solutions from Siemens combined with a smart home improvement and energy solution from Rezido Technologies, Samsung technologies will allow residents of Sterling Ranch to live completely carbon neutral.
The collaboration between Samsung and Covers Residu other aspects outside the scope of the smart city project. The two companies are exploring the opportunity to integrate Samsung devices with Rezido's smart grid solutions to connect customers to energy management programs in California and Texas. By better expanding Rezido's demand response and improving the savings features of the SmartThings Energy platform, this work can help make more smart grids ready for societies of the future.
Processing Microplastics Using "Microfiber Less" Technology
While reducing the impact of appliances and homes is vital to creating a sustainable future, other environmental risks and threats demand more attention from us. Samsung and Patagonia have worked together for more than a year to address the challenge of eliminating microplastics during wash cycles, to reduce pollution of oceans and other water bodies. The one connected to it from Samsung is one of the fruits of this cooperation. Thus, a breakthrough was achieved in combating microplastics, and reducing this type of emissions by up to 54%. This technology is currently available in Europe, and will be introduced in compatible washing machines in Korea starting in February of this year, and soon in the United States.
This development is making a real impact on the health of aquatic ecosystems, by By reducing the chances of these materials reaching ocean waters at the end of washing cycles. The technology will be available on select Samsung washing machines in Europe starting in the second half of the year 2023, and can also be purchased separately and installed on any washing machine on the market, regardless of brand.
With these laundry innovations from Samsung, it will be easy for consumers to reduce environmental waste for years to come, and Samsung will offer class-leading warranties for washing machines and refrigerators for 35 years. The warranty covers digital inverter technologies for appliances, enabling further reductions in waste volumes by extending the life of Samsung washing machines and refrigerators. Custom-made refrigerators also feature customizable door panels to support longer use, by allowing users to easily upgrade the design of their existing appliances rather than replacing them with a new one.
Through close collaboration and breakthrough technological innovations, Samsung is committed to making As the world's most energy-efficient appliance brand, it looks to lead a more sustainable future.
Learn more about the eco-friendly innovations Samsung is showcasing at CES 2023, visit Samsung.com
2023