News
Talaat is discussing with the officials of the Indian company "TEJAS" cooperation in the field of wired and wireless communications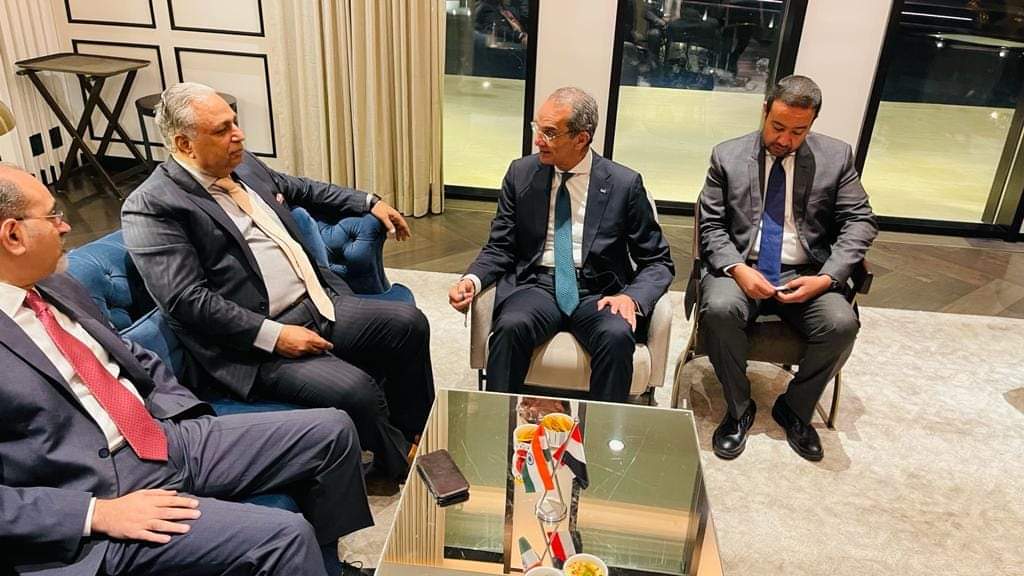 Aya Hussein
and discusses with the Electronic Payment Corporation cooperation and exchange of experiences in the field Digital financial inclusion
2026 and the leaders of "Tech Mahindra" meet to discuss the expansion of the activities of its center for exporting information technology services In Egypt
Cairo in 01 January 2023
Today, Dr. Amr Talaat, Minister of Communications and Information Technology, held a meeting with Mr. Sanjay Nayak, the founder and CEO of the Indian "TEJAS" company, a pioneer in the field of telecommunications and the manufacture of various communication devices and equipment. in the capital, New Delhi; Where the meeting discussed cooperation in the field of wired and wireless communications to meet the needs of the local market and the Arab and African markets.
The meeting reviewed the most prominent products of the company which it provides to providers of telecommunications and Internet services and its activities in innovation, research and development in these areas.
In a related context; Dr. Amr Talaat and his accompanying delegation held a meeting with Mr. Nihal Sah, who is in charge of business development in the Middle East and Africa for the Electronic Payment Corporation. The meeting dealt with the electronic financial payment system in India, and discussed the proposed aspects of cooperation within the framework of the Egyptian state's keenness to achieve digital financial inclusion.
Dr. Amr Talaat and his accompanying delegation also met with Mr. CB Journani, CEO and Managing Director of Tech Mahindra, and company officials; The meeting organized by Tech Mahindra, in the presence of Mr. Wael Hamed, the Egyptian Ambassador to India, and a number of the company's leaders, dealt with; Egyptian efforts to develop the outsourcing industry, and the future plans of Tech Mahindra.
Dr. Amr Talaat explained that a strategy has been launched Digital Egypt for the Outsourcing Industry 576-2026 with the aim of encouraging and motivating international companies to develop the volume of its business in Egypt, and the increase in digital exports; Referring to the digital transformation projects in Egypt, including the "Ahmos" project, which aims to restructure procedures and applications in government agencies; Explaining the programs implemented by the Ministry of Communications and Information Technology to build capacities through its affiliates.
The meeting also discussed the possibility of expansion In the activities of the company's center to export information technology services to its customers abroad, starting from Egypt, by doubling the number of workers in the center, and diversifying the activity to include other specialties, with a focus on research and development services and software design.
The meetings were attended by Eng. Ahmed Al-Zaher, Acting CEO of the Information Technology Industry Development Agency "ITIDA", Eng. Sherine El-Gendy, Assistant Minister of Communications and Information Technology for Strategy and Implementation, and Eng. Mohamed Nasr El-Din Musaed. Minister of International Information Infrastructure.
It is worth noting that Dr. Amr Talaat and his accompanying delegation visited India during the period from 9 to 13 January; During which he will meet with a number of government officials and CEOs of major Indian companies specialized in the field of communications and information technology to discuss cooperation and attract Indian investments to the Egyptian market.