News
Desert Research launches an indicative campaign to combat olive pests in central Sinai to integrate its people into sustainable agricultural development.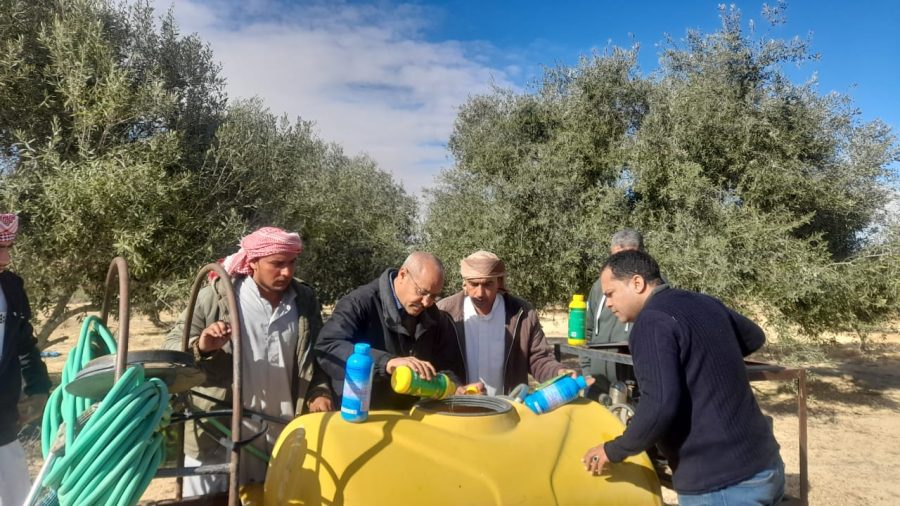 Written by: Fathi Al-Sayeh
Within the framework of the directives of the political leadership for comprehensive development in Sinai, and in implementation of the instructions of Mr. Olive pests, as part of the activities of the research program "integrating the people of Sinai and strengthening their role in sustainable agricultural development." Dr. Abdullah Zaghloul, head of the Desert Research Center, stated that this comes as a continuation of the efforts of the Ministry of Agriculture and Land Reclamation and the Desert Research Center in agricultural development in Sinai by expanding the scope of Community benefit from the activities and services of the Ministry and the Center, with a focus on paying attention to the applied side of scientific research that contributes to increasing the productivity of the main crops in Sinai, achieving maximum benefit from the land and water units, and then raising The standard of living of the Sinai farmer.
1128 For his part, Dr. Al-Aal, head of the research program, said that the general objective of implementing this campaign is to build the capacity of farmers in the field of integrated pest control of olive pests by using practical explanations by practice to increase their knowledge and skills and refine their expertise in this field under the supervision of specialized professors from plant protection and agricultural extension at the Desert Research Center.
1128 In a related context, Dr. Muhammad Abdel Aziz Abu Al-Khair, Professor of Plant Protection at the Center for Desert Research stated that the activities of the campaign lasted 3 days, during which treatment treatments for some crops infected with scale insects, bark beetles, red spiders, rootworms, leaf rot, stem borers and other pests that greatly affect the productivity of olive trees were examined and carried out in the Abu Marahel and Ain al-Qudayrat communities. And Umm Shehan in central Sinai, and "Abu Al-Khair" added that the campaign took into account communication with farmers, delivering guiding information to them, and answering their technical inquiries regarding increasing productivity and methods of fertilization and irrigation. And control due to the importance of the olive tree in the lives of Sinai farmers as a basic source of income for many Bedouin families, pointing out that these extension campaigns are continuing to cover most of the communities to support the most needy groups in those areas.