News
The Minister of Higher Education receives the Ambassador of Nepal in Cairo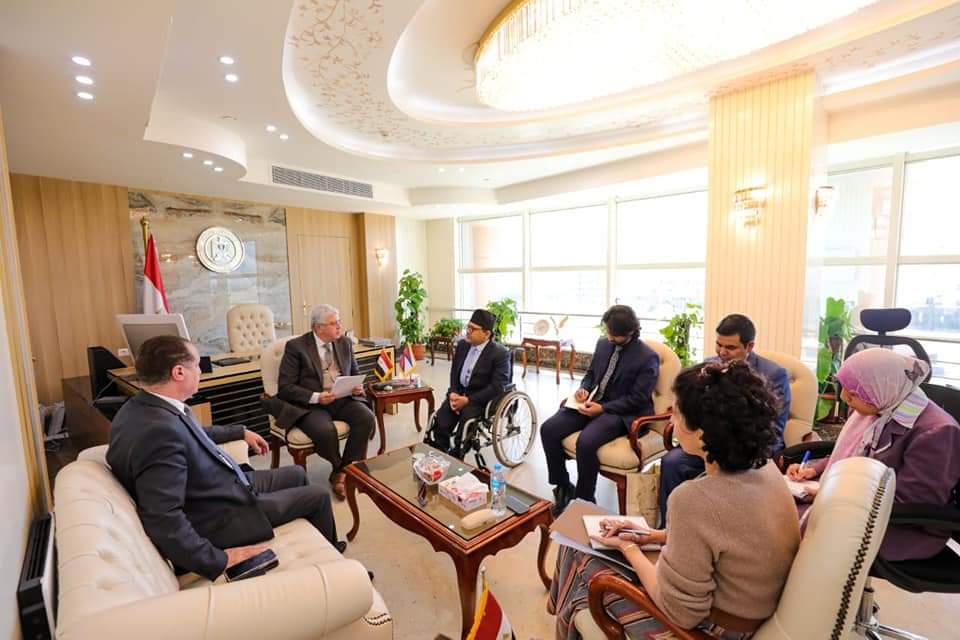 Aya Hussein
Dr. Ayman Ashour, Minister of Higher Education and Scientific Research, Mr. Sushil K Lamsal, Ambassador of Nepal in Cairo, and his accompanying delegation; To discuss ways to support cooperation between Egypt and Nepal in the fields of higher education and scientific research, in the private education building in New Cairo.
1674205669553 at the beginning During the meeting, the minister affirmed Egypt's keenness to support the bonds of partnership with Nepal in the fields of higher education, science and technology, scholarships, and cooperation between Egyptian and Nepalese universities.
1674205669553 Dr. Ayman Ashour emphasized that the future vision of the system of higher education and scientific research is 2022-2022 aims to pay attention to the internationalization of higher education, and to maximize partnership with prestigious international universities, especially in the field of technology in light of the rapid technological progress witnessed by the world.
1674205669553 During the meeting, the two sides discussed mechanisms for activating more aspects of cooperation between the two countries in the fields of higher education and scientific research, especially with regard to the affairs of Nepali students studying in Egyptian universities, and increasing the number of scholarships offered to them, whether in the undergraduate or postgraduate levels. In addition to exchanging visits between Egyptian and Nepalese university professors, and ways to support cooperation with Egyptian universities in areas of common interest, especially private universities and universities of technology, which focus in their programs on linking education and industry to meet the state's priorities and needs in the areas of development, and provide job opportunities for graduates in line with the needs of the labor market.
1674205669553 During the meeting, the Minister promised to provide all aspects of support and facilities required for the noble scholars, and to solve all the problems that they might face while studying in Egypt, stressing his keenness to provide the best A climate for foreign students studying in Egyptian universities, and facilitating all scientific ways and means that help them acquire education and knowledge, explaining that the ministry will spare no effort in overcoming all obstacles that face them during their studies.
For his part, the Nepalese ambassador thanked the Egyptian government for the support it provides to the state of Nepal, especially the Ministry of Higher Education; For its support and support for the Nepalese students studying in Egyptian universities, stressing his country's keenness to increase the horizons of cooperation with Egypt in light of the distinguished relations that unite the Egyptian and Nepalese peoples, calling for an increase in scholarships for Nepalese students to study in Egyptian universities. 1674205669553 The meeting was attended by Dr. Ashraf Al-Azazy, Head of the Cultural Affairs and Missions Sector at the Ministry, and Dr. Hajar Saif Al-Nasr, Acting Head of the Central Administration for International Student Affairs.