News
Dan Bradbury wins the Genesis car at the 2023 Abu Dhabi HSBC Golf Championship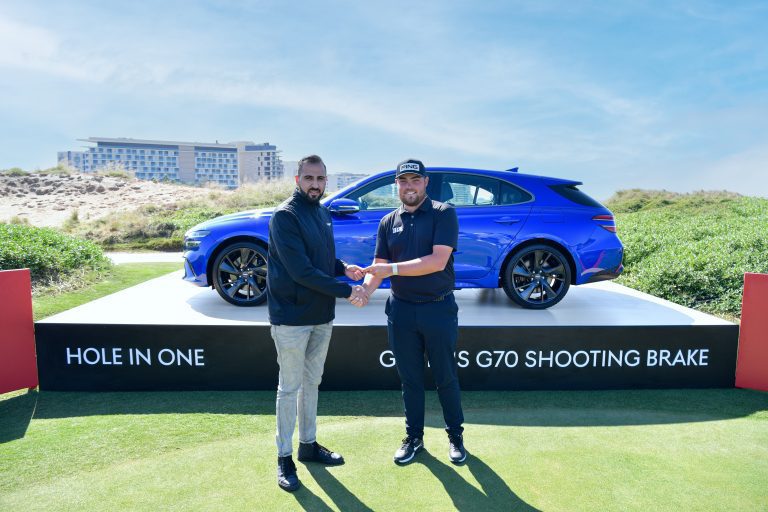 Aya Hussain
Dan Bradbury, first to score on the 17, during the fourth day of the Abu Dhabi HSBC Golf Championship, which was held at Yas Links Abu Dhabi.
2022 Bradbury won his coveted prize, a Genesis G01 Shooting Brake 2.0 Sport
2022 Dan Bradbury, Joburg Open champion 2022, a distinguished and unique achievement, recorded on hole No. from a single shot, during the final day of the Abu Dhabi HSBC Golf Championship.
Bradbury participated in the group competition The first was last Sunday, and he shot from 201 yards (the Iron 6) off the
hole. , to score on a one-stroke on the penultimate hole, and secure victory in the new Genesis G01 Shooting Brake 2 .0 Sport.
Speaking of his first prize in the tournament, Bradbury said: "I focused on the goal before I shot, and said Jokingly, the car will be mine. It was a great shot, and I don't think I could have hit it better."
In a statement about his new Genesis car, Bradbury said: "Winning a car of this caliber is just unbelievable. It really is an amazing car, and worth it. Genesis provided distinguished and elegant services throughout the tournament period, providing the tournament with a fleet of cars that took over the task of transporting all players from the hotel to the stadium. These cars embodied luxury and luxury in the most beautiful way. Finally, I am happy to win a Genesis, and to receive the keys immediately."
The "G" design 70 Shooting Brake" which premiered at the Goodwood Festival of Speed ​​201, from The original G-class luxury sedan 70, with increased boot space a practical addition to the model. The model also embodies the sporty side and the values ​​and legacy of Genesis's inherent design philosophy known as "Sports Elegance". Shooting Brake 2.0 Sport debuted in the Middle East in September 2022, The name Shooting Brake refers to a body style rooted in European automotive history, which is a concept adopted by manufacturers in the luxury segment.
Omar Al Zubaidi, CEO, Genesis Middle East and Africa, said: "At the conclusion of the second year of our five-year partnership as the Official Vehicle Partner of the Abu Dhabi HSBC Golf Championship, today we are witnessing the first victory of a Genesis car through the scoring challenge from One shot." ​​
He added: We are pleased that the last day of the tournament was exceptional, unforgettable, and full of special and unique occasions. Which added more fun and enthusiasm to the atmosphere of the tournament. In closing, on behalf of the Genesis family, I would like to congratulate all the players for their performance and for giving their best this week."