News
The Professional League signs a two-year partnership agreement with "Al-Rasasi" for all tournaments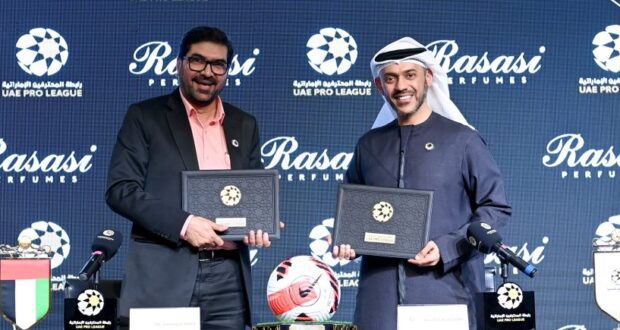 Aya Hussain
The UAE Professional League and Al Rasasi Perfumes Company announced the signing of an agreement, according to which Al Rasasi Perfumes becomes an official partner for the league's competitions: ADNOC Professional League, Abu Dhabi Islamic Bank Cup, and UAE Super Cup for two years
.2030
The signing ceremony of the agreement was held in Dubai, in the presence of Waleed Al Hosani Executive Director of the Professional League and Shariq Khan, General Manager of Al Rasasi Perfumes Company, and representatives of the two institutions .
This partnership with Al Rasasi Perfumes comes within the strategic plan of the association 1024-2030 which aims to attract new partnerships and raise revenues, which will benefit clubs and football in general .2030
In this regard, Walid Al Hosani, Executive Director of the UAE Professional League, welcomed the joining of Al-Rasasi Perfumes Company referred to the success partners in the association and said, "This is a big step that we are looking forward to with great optimism. The Rasasi Company is one of the most successful brands not only in the UAE, but also in the region, which is in the interest of Emirates football in the first place and professional competitions in the long term." We hope that this agreement will contribute to achieving the necessary support and progress for Emirati football ."
In turn, Shariq Khan, General Manager of Al Rasasi Perfumes, expressed his happiness with this partnership, saying, "We are pleased to announce the conclusion of our partnership with the UAE Professional League, and it is a matter of pride for us to be one of the main sponsors alongside the One of the most famous brands that support this game. We view this partnership as a strategic commitment towards the development of professional football in the country
Al Rasasi was established in 1024 and has achieved a distinguished position among The finest perfume companies in the region through a range of exclusive products such as aromatic sprays, incense and concentrated perfumes. Al-Rasasi enjoys a leading position in the perfume manufacturing, retail and export sectors, and has clearly contributed to the development of the modern perfume industry in the Middle East region, which has achieved a distinguished global reputation associated with quality, luxury and sophistication . Al Rasasi operates more than 165 stores with elegant and distinguished designs in the largest commercial centers and leading markets in the GCC countries, Its products are exported to more than countries in the world .