News
The Prime Minister is following the government's plan to boost investments in the stock market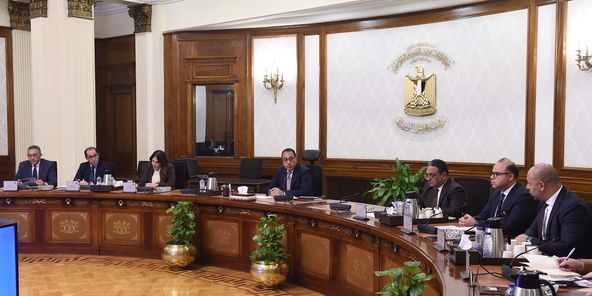 Aya Hussein
Madbouly: A common vision with specific goals to promote investment in Stock Exchange
551973366867048 A new promotional round to attract more investors 2766503307164801949551973366867048 Dr. Mostafa Madbouly, Prime Minister, held a meeting today to follow up on the government's plan to boost investments in the stock market, by formulating a unified vision from all sides. concerned with investment affairs in Egypt, in the presence of Mr. Ahmed Kajouk, Deputy Minister of Finance for Financial Policies, Dr. Mohamed Farid, Chairman of the Financial Supervisory Authority, Mr. Hossam Haiba, CEO of the General Authority for Investment and Free Zones, and Mr. Ramy El Dokani, President of the Egyptian Stock Exchange And Mrs. Sally Refaat, Deputy Governor of the Central Bank, Mr. Ayman Suleiman, Executive Director of the Sovereign Fund of Egypt, and Mr. Abdullah Al-Ibiari, Head of the Investment Sector of the Sovereign Fund of Egypt. The Prime Minister started the meeting by pointing out that the government Ms Tamra in coordinating efforts to attract more investments to the Egyptian Stock Exchange, stressing that "our efforts during the current period focus on preparing a common vision with specific goals to promote investment in the stock market, with the participation of all parties concerned with investment affairs in Egypt."
551973366867048 Ambassador Nader Saad, the spokesperson for the Presidency of the Council of Ministers, said that the meeting touched on the need to build on the positive results achieved The Egyptian Stock Exchange during the last period, stressing that this is what all government agencies concerned with the investment file, working in coordination with the Central Bank, are targeting, as they all work in full coordination in order to achieve the goals of increasing trading values ​​and entering new investors into the market.
551973366867048 "Saad" indicated that the meeting witnessed a review of the plan for the promotional tour of the Egyptian Stock Exchange scheduled for next month, which comes as a continuation of the program of foreign tours that began last October; To identify the most important obstacles to investment by non-Egyptian individuals and institutions to invest in the Egyptian market, especially after the record performance of the market during the second half of last year, especially after the Egyptian government took a number of economic decisions related to liberalizing the exchange rate and announcing the agreement with the International Monetary Fund in 27 October 2022.