News
Agriculture confirms: The rental value of the agricultural reform lands for the year 2022/2023 has been collected at a rate of 100% for the benefit of the state treasury in Beni Suef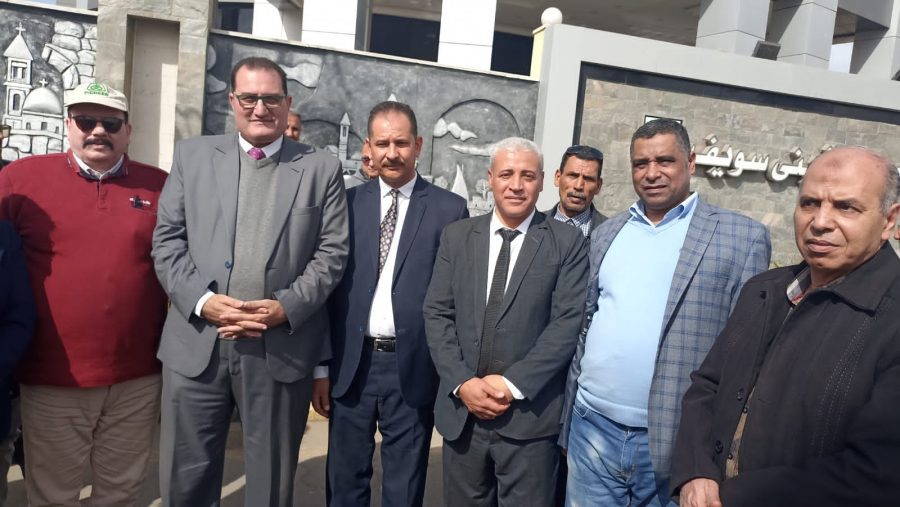 Written by: Fathi Al-Sayeh
A delegation from the leaders of the Ministry of Agriculture and Land Reclamation visited It includes Dr. Hassan Foley, head of the General Authority for Agrarian Reform, Saeed Saleh, advisor to the Minister of Agriculture for follow-up, Dr. Mohamed Youssef, head of the central administration for district affairs, and engineer Imad Janjan, director of the Agricultural Directorate in Beni Suef. 20230130 This comes in implementation of the directives of Mr. Al-Qusayr, Minister of Agriculture and Land Reclamation, with continuous follow-up and field traffic, and the implementation of one-day campaigns, to inspect various agricultural businesses and projects in the governorates.
The traffic campaign carried out by the delegation of the Ministry included a visit to a number of agricultural associations, including Credit, Reform and Reclamation, to follow up on the progress of work, and to ensure
The delegation held a meeting with the leaders of the Directorates of Agriculture and Agrarian Reform, with To his governorate, where a number of topics were discussed, and the assignments of the Minister of Agriculture were transferred, which comes on top: the speedy completion of the inventory work for winter crops, especially wheat, on the ground, the availability of fertilizers in associations with full flexibility in exchange, as well as interest in applying contract farming, especially for summer crops: maize Soybeans, sesame and sunflowers, as well as preventing encroachments on agricultural land, whatever they may be, and communicating with the concerned authorities to end these encroachments, remove them in the cradle, and take all measures against the aggressor.
The delegation of the Ministry confirmed the collection of the rental value of land for the agricultural reform for the year 900, where the rental value was collected for the year 507 at a percentage of 01% for the benefit of the state treasury and is being collected for the current year, in addition to continuing to deliver the farmer's card to prevent breaches in Fertilizer system and keeping pace with digital transformation and financial inclusion, as well as stressing attention to all assets owned by the ministry, raising their efficiency, and exploiting them in the appropriate economic exploitation to achieve the largest return from them.
Stressed the necessity Follow-up of the fixed outlets located within the governorate of Beni Suef in terms of the prices of goods and products, their quality and their appearances.
On his part, Saleh confirmed that Meetings and meetings are continuing with the masses of specialists at the level of credit, reform, and reclamation to achieve the goals within the one-day campaign directed by Mr. Al-Qaseer, Minister of Agriculture and Land Reclamation.