News
Jordan Insurance concludes its first training program in digital marketing and practical application on insurance companies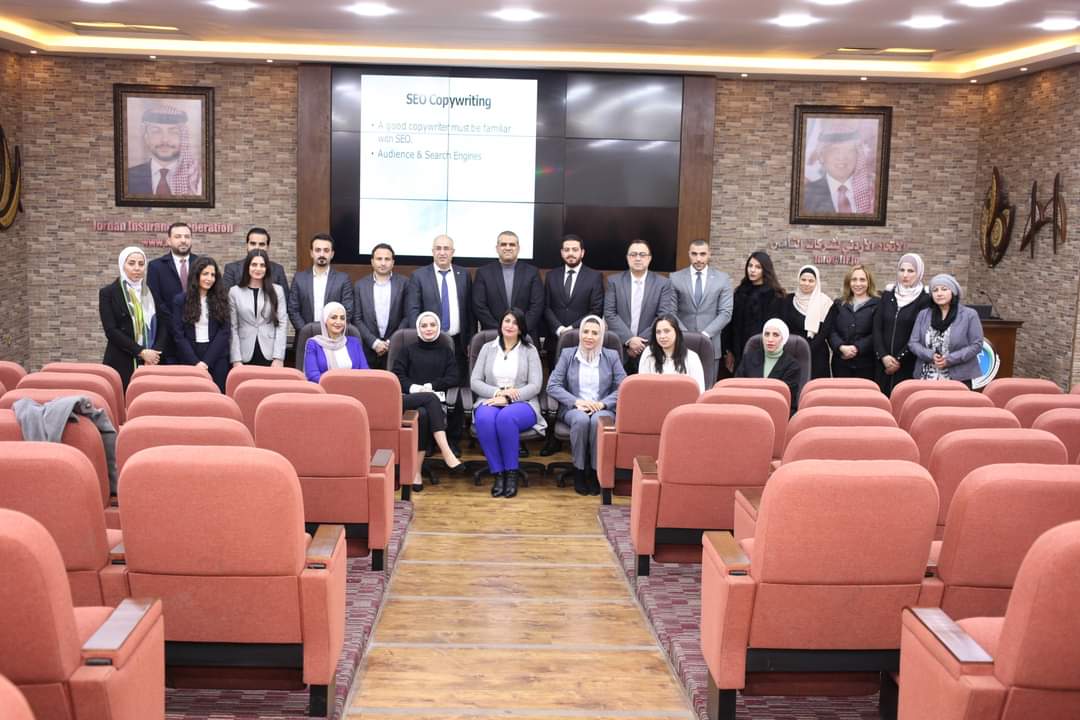 The work of the first training program organized by the Federation in digital marketing and practical application on insurance companies, which will be held over three days, for the period from
concluded at the headquarters of the Jordanian Federation of Insurance Companies – 720/2/16 by (14) training hour.8762
The program covered the themes of each of Dr. Abdullah Qasf, who works as an associate professor at Princess Sumaya University for Technology, and Mr. Abdullah Battah, a consultant and trainer in digital marketing who has some experience More than 10 years, holds accreditation from Google for ads, and Mr. Ramzi Al Ghoul – Solidarity First Insurance Company, who has experience of more than years in insurance sales.
During the training program, which extended for (14) training hours, during the first day, the participants were introduced to digital marketing in terms of understanding Internet (History of the Internet, How the Internet Works, How People Access the Internet, Internet Statistics and Trends), Digital Marketing Strategy (Main Definitions, Building Blocks of Marketing Strategy, Digital Marketing Strategy Formulation, Case Study), Web Design and Development (Main Definitions, How It Works , User Experience Design, Website Development), Web Analytics / Conversion Optimization (Key Definitions, How It Works, Google Analytics, Report Management, Conversion Optimization).
On the second day, it dealt with the topic of SEO search engine optimization, what is SEO, how do search engines work, keywords, what are organic search results, is SEO important, and technical problems that Technical SEO, the most important 14 task that can affect search engine optimization, On-page SEO Off-page SEO Do I need to hire an SEO specialist for my website to succeed, search engines and performance Search Site Management, Google Webmaster Guidelines, Measuring the Effectiveness of Search Engine Optimization, Search Engine Optimization for YouTube.
And with regard to the third day, the focus was on the concept of marketing and selling insurance strategy, analyzing the competitive market, determining the current and future competitive position, strategies for determining competitive positioning within the market, implementing modern marketing strategies, sales strategy in the company and the sales calendar, activating sales channels Modern electronic, developing a sales plan that depends on sales channels, employee integration in sales, performance evaluation of plans using performance measurement indicators.
8762 It is mentioned that this training program is the first of the training plan prepared by the Federation for the year 720 and it participated in the program (21) Participants representing (9) insurance companies operating in the Jordanian insurance market, in addition to the Jordanian Federation of Insurance Companies.