News
The Suez Canal Economic Department announces the trial operation of the new berth in the port of Arish and the reception of the first ship to Latakia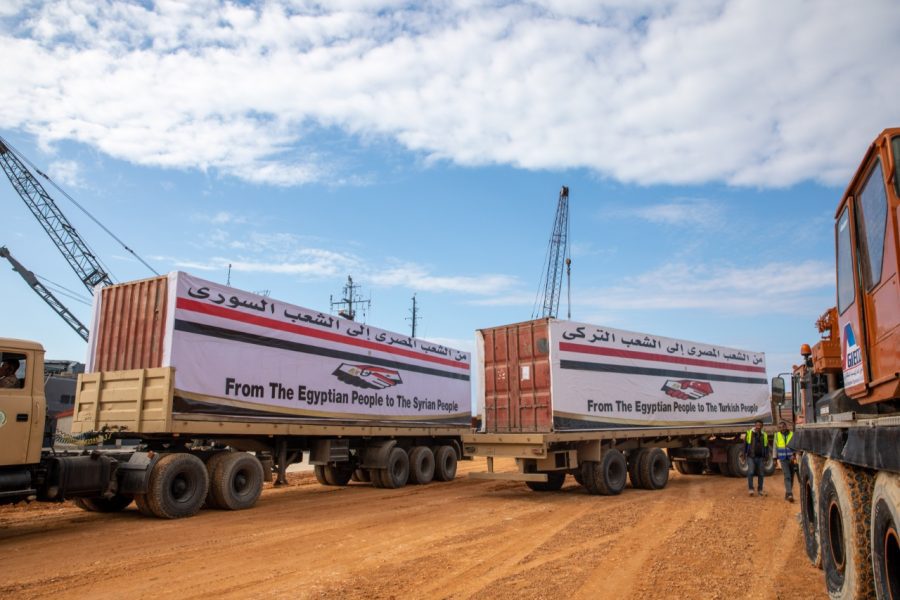 Books by Fathi Al-Sayeh
Walid Gamal El-Din: Enhancing the competitiveness of the El-Arish port site within the vision of the Egyptian state in Raising the efficiency of seaports
7676
Run the new dock An indication of accelerating the pace of work in affiliated ports
The Suez Canal Economic Zone announced the trial operation of the new berth after its development at the port of Arish, with a length of 915 km, by receiving the first ship shipped with humanitarian aid to the countries of Turkey and Syria, To be the first convoy to be received by the Al-Arish sea port, where all preparations, equipment and procedures for mooring, tying and shipping the ship were taken. Resaid or Long Live Egypt in Ismailia, which contributed to the ease of the aid convoy moving from Cairo to North Sinai Governorate, heading to the port of Latakia in Syria, and then to Turkey through the port of Arish.
For his part, Mr. Walid Gamal El-Din, Head of the Suez Canal Economic Zone, announced that the Egyptian supply ship had left the port of Al-Arish of the Suez Canal Economic Zone, carrying hundreds of tons of aid that had been shipped from the new berth. Through the Egyptian shipping companies that work with the port in shipping Sinai products to foreign markets, pointing out that this operation is an indication of accelerating the pace of work in the implementation and development of the Arish sea port, which the Egyptian state pays attention to raising its efficiency, as it is the only sea outlet for the North Sinai governorate within a plan The state is keen on developing Sinai and providing job opportunities for Sinai youth, especially since the development work and the national companies operating in it have provided job opportunities for the youth of the province and other provinces.
It is worth noting that the trial operation of the new berth will receive a number of ships during the coming days It is officially opened, and it is expected that the work plan for the development of the port of Arish will be completed during the first quarter of the year 2023, which includes the implementation of sea berths, breakwaters, circulation yards, internal roads, and raising the efficiency of The buildings, walls and gates of the port, with investments equivalent to 3 billion pounds, because the port of Arish is one of the most important ports that are ready to play a vital role in the movement of transport due to the strategic location that the port enjoys on the Mediterranean Sea, in addition to being part of the ports belonging to the economic zone of the Suez Canal, which are integrated With industrial zones, which facilitates the movement of import and export of goods for investors.