News
The German University in Cairo is the first university in Africa to have an industrial complex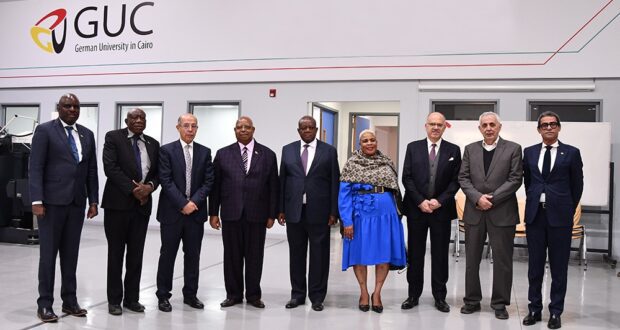 A. HUSSEIN
The German University in Cairo visited Mr. Jacob Mudenda, Speaker of the Parliament of Zimbabwe And his accompanying delegation, within the framework of his official visit to Egypt, at the invitation of the Chancellor, Dr. Hanafi Jabali, Speaker of the House of Representatives, where he and his accompanying delegation were received by Eng. Abdel Fattah Mansour, Vice-Chairman of the University's Board of Trustees, Dr. Yasser Gamal Hegazy University President, Dr. Ehab Kamel Abu Al-Khair, Vice President for Academic Affairs, and deans of faculties, faculty members and students.
The program included The visit is to provide an explanatory presentation on the establishment of the university and its educational and research activities in Egypt and Germany, as well as the distinguished community role of the university. .
The meeting also witnessed the presentation of Mr. Jacob Mudenda, Speaker of the Parliament, a lecture entitled "Promoting university education through a special initiative – a simulation experience", during which he expressed his happiness at visiting the university for the first time, and seeing the size of its achievements, pointing out that it is A leading university in education and applied scientific research, it came with a vision of building a leading center of excellence in teaching and scientific research that contributes effectively to achieving scientific, technical, economic and cultural cooperation at the national and international levels, and added that it is the first university in Africa with an industrial complex on its campus.