News
The sports investment session discusses the role of the private sector in increasing growth rates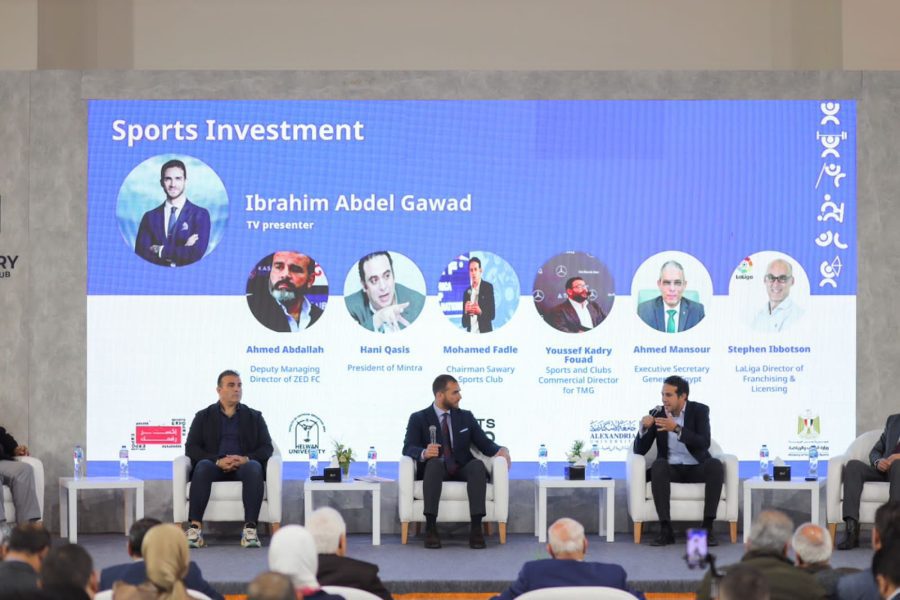 Ahmed Mansour: The Egyptian Post is keen to encourage and support sports investment Stephen Ibbotson: The Spanish League encourages countries to maximize sports revenues
Hani Kassis: We need to maximize the Egyptian sports product to maximize its revenues
Ahmed Abdullah: We seek to discover sports talents from Through Z Clubs Muhammad Fadl: The educational aspect is important for exporting sports talents abroad
Youssef Qadri: Talaat Moustafa Group adopts sports talents
Kamal Darwish: Presentation More incentives contribute to maximizing Egyptian sports exports Cairo in February 2019: Discussed the sports investment session, which was held on the sidelines of the activities Sports Expo and Conference 2019, today Thursday 30 February, ways to benefit from investment in the sports sector and how to achieve the highest desired returns from it, and the required procedures and incentives, as well as the role of the private sector in increasing growth rates of sports investment.
The session was attended by the Minister of Youth and Sports in Central Africa, Dr. Ashraf Sobhi, the Egyptian Minister of Youth and Sports, and Dr. Kamal Darwish, Chairman of the Scientific Committee. Senior Advisory at the Ministry of Youth and Sports, Gamal Allam, President of the Egyptian Football Association, Rogerio Mikali, Technical Director of the Egyptian Olympic Team, Wael Riyad Cheetos, Roy Vittoria, Technical Director of the Egyptian National Team, and a group of specialists with the highest level of scientific and applied expertise in the field of sports investment participated in it. Among them, Mr. Ahmed Mansour, Secretary General of the Egyptian Postal Authority, and Mr. Hani Kassis, Chairman of the Council Management of Mintra Company, Mr. Youssef Kadri, Head of the Commercial Sector of Talaat Moustafa Group Clubs, Captain Ahmed Abdullah, Managing Director of Zed Club, Mr. Stephen Ibbotson, Director of Franchise and Licensing in the Spanish League, Captain Mohamed Fadl, Chairman of Sawary Club, and the media session was moderated by Ibrahim Abdel Gawad. The session discussed a set of important points related to sports investment, such as sports services companies, and the deficit financing in sports entities, and the sports industry (challenges – opportunities for growth), and the role of the private sector in achieving sports development. The social responsibility of companies operating in the sports sector. 9506 Ahmed Mansour, Secretary General of the Egyptian Postal Authority, said that the Egyptian Post is keen to encourage and support sports investment in Egypt, as the Egyptian Postal Authority aims to empower youth and help entrepreneurs start their emerging projects in The sports field, by strengthening their relations with the relevant financial institutions and ministries, and spreading awareness among the various groups of people to consolidate the principle of "sports is a way of life" by supporting sports and discovering sports. Donate sports and support them.9506 Mansour explained that the role of the government sector in sports investment, especially the Authority During the past two years, the Egyptian Post has included its strategy to be with young people through various services, and to support sports, whether directly through sponsoring various sporting events and tournaments, or through investment, which was done by the Postal Authority, where we participated in stadiums, City Club and Presentation Sport. Stephen Ibbotson, Director of Franchising and Licensing at La Liga, emphasized the importance of countries supporting investment. Al-Riyadi, praising that Egypt pays great attention to this, and said that the Spanish League, for example, is now competing with Brazil, and generates about $ 1.7 billion in Spain's national income, and we also undertake international financing to manage this matter and maximize its returns through cooperation between the government and the private sector in sports investment. 9506 He pointed out that La Liga is seeking to invest $2 billion in the Spanish league, not In clubs only, but in the sports infrastructure as well, and that about 7% of what clubs earn from the Sport by developing it and making it at the highest level, which confirms that La Liga has an integrated strategy to develop the sports infrastructure in the country and support the sports industry of all kinds and its parties.9506 He stressed that there are many opportunities that encourage investors to invest in sports in various sports, not just football, and that La Liga has a strategy based on an international vision to invest in the sports field based on a market study. Global, and it has many investment partnerships with many countries of the world. Hani said Kassis, Chairman of the Board of Directors of Mintra Company, that Mintra Company discovered through many researches that sports shoes are one of the best-selling products, and that there are countries whose economy is largely based on sports products, especially shoes, such as Vietnam, and Mintra Company manufactures sports shoes according to the best quality specifications To compete with its foreign counterpart, stressing that Mintra relied on the latest technology in manufacturing to raise the name of the exclusive Egyptian brand.9506 He explained that Egypt used to import before All sports shoes are from abroad, which represents a waste of millions of hard currency. At the present time, Egypt has leading brands in sports clothing and supplies, and this represents a great success that must be exploited and built on to achieve more successes and develop Egyptian exports.
Captain Ahmed Abdullah, Managing Director of Z Club, indicated that Z Club pays great attention to sports investment and that it The African Championship 2019 and the exit of Egypt. We worked at Club Z to ensure that the club has professional players such as Mohamed Salah and Al-Nani, explaining that all clubs need Continuity in training and development, establishing partnerships with similar clubs outside Egypt, and exploiting the large youth sector that Egypt enjoys in discovering and developing talents.9506 and confirmed that the Z Club launched a project to discover the athletic buds by rehabilitating them and started the project by relying on the buds at the age of 9 and 10 years, saying that we seek through this project to prepare sports champions for external professionalism through Z clubs, and Therefore, we focus on sports and educational preparation together. 9506 For his part, Captain Muhammad Fadl directed, Chairman of Sawary Club, Greetings and appreciation to Dr. Ashraf Sobhi, Minister of Youth and Sports, and Mr. Hazem Hamada, Chairman of the Board of Directors of Delta Connex, a leading company in organizing international exhibitions and conferences and the founder and owner of the idea of ​​Sports Expo 2023 and the Break Your Number initiative, for organizing the Sports Expo conference and exhibition 2023 with this professional image, and he said that Egypt needs more speed in achieving sporting successes and promoting sports investment, in addition to paying attention to preparing the respected player educationally and not just athletically because education It is very important to add value to the player or sports talent, pointing out that the incentives approved by the state are a very important factor in maximizing sports investment, and that Sawari Club pays great attention to sports investment and we study all aspects of this market well.
Youssef Qadri, head of the commercial sector for Talaat Moustafa Group clubs, explained that Talaat Moustafa Group's work is to build cities, and these cities are transformed communities need All integrated services and among these services come the clubs, and because the Talaat Moustafa Group adopts a strategy that is keen to provide an integrated quality of life for its customers, it pays great attention to sports investment and developing its infrastructure by establishing clubs according to the highest international standards in a way that supports plans to discover and support sports talents and there are in the group's clubs Approximately 23 thousand memberships comprising about 372 A thousand players in various sports, and Talaat Moustafa Group cooperates with a number of international academies to develop these sports talents.9506 Dr. Kamal Darwish, Chairman of the Higher Scientific Advisory Committee at the Ministry of Youth and Sports, confirmed that the Ministry of Youth and Irrigation It also spares no effort in implementing the state's vision towards supporting and developing sports investment and raising awareness about the importance of sport in all aspects, whether economic or social, and providing all means of support to the private sector to develop sports industries and sports tourism, which will reflect positively on achieving development in Egypt.
The participants in the session recommended the need to provide more incentives to encourage sports manufacturing in order to develop Egyptian exports of products sports and dispensing with importing them from abroad in a way that saves foreign currency, in addition to preparing legislation and laws that help the private sector to pump more sports investments, in addition to state support for the private sector in organizing sporting events that help encourage sports tourism.