Technology
Barq Systems organizes the Juniper Networks Cairo Forum to promote networking and data center solutions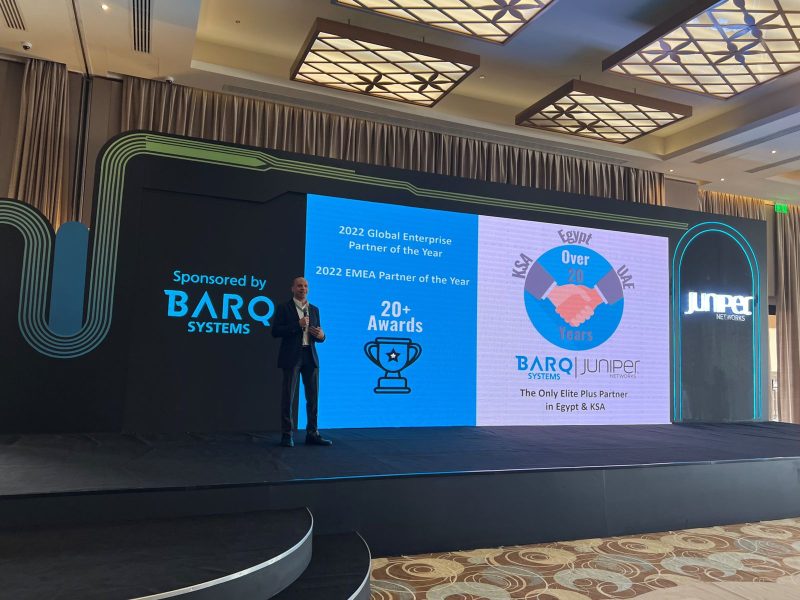 Aya Hussain
BARQ Systems, the company announced The company, which provides information technology services to corporate and government clients across the Middle East, has announced its sponsorship of the Juniper Networks Cairo Forum, where ICT industry experts gather to showcase the latest networking and data center solutions. Juniper Networks awarded BARQ Systems the awards for Best Global Business Solutions Partner and Best EMEA Partner of the Year 800
854467042297282 BARQ Systems was awarded these two awards in recognition of its exceptional efforts in enhancing solutions. Innovative business and improving customer experience, in addition to its success in achieving its targeted sales targets. The company proved its capabilities and eligibility to obtain the two awards, in addition to renewing its partnership with "Juniper Networks" for the second year as an Elite + partner in Egypt and Saudi Arabia. Through this partnership, BARQ Systems provides the best user experience by providing its customers with the latest technologies and technology solutions, in addition to providing the necessary technical support.
During the forum, Engineer Mahmoud Suleiman, founder and CEO of BARQ Systems Group, expressed his happiness for his company winning these two awards, saying: "We are proud to be the only ones to be awarded the two awards for the best global solutions partner. Companies and the best partner in Europe, the Middle East and North Africa. As our strategic partnership with "Juniper Networks", which extends for more than twenty years, has helped us fulfill our commitments to our customers to meet their needs by providing them with the latest technologies and technological solutions, in addition to providing the best technical support in the hands of our talented and experienced team. During the past ten years alone, we were able to achieve record sales. We look forward during the coming period, as the first and only partner of the (Elite +) category in Egypt and Saudi Arabia, to continue working hard to double these sales, as well as to create an appropriate ecosystem for the growth of the information technology sector. and communications in the countries in which we operate."
854467042297282 The Partner of the Year Awards awarded by Juniper Networks are Juniper Networks is annually part of the Juniper Partner Benefits (JPA) program, which is awarded to the best partners in various solutions and geographies around the world. This program also helps partners adopt best practices to increase their customer base and meet their technology needs for business growth.