News
Students of the College of Engineering at the American University in a field visit to the "CREEK TOWN" site as a distinctive architectural model and an example of construction quality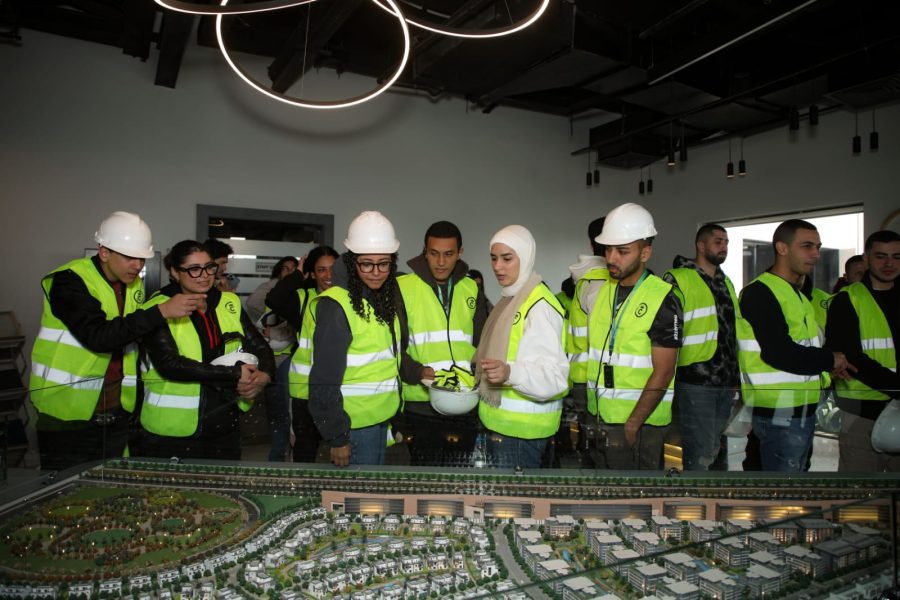 Ashraf Tawfiq
Alcazar Real Estate Development Company received a field visit from college students Engineering at the American University for the site of the "CREEK TOWN" project, which was chosen by the university administration for the distinction of its location, the architectural character, and the engineering and executive quality of the project.
Nader Khozam, Chairman of the Board of Directors of Alcazar Real Estate Development Company, said that the project enjoys competitive advantages that made it capture the interest of the student team that visits the project, starting with the privileged location, unique architectural design, and internal details of the project, in addition to Their desire to learn about the mechanisms of implementing this distinguished project and transforming the unique design into a tangible reality and a distinguished project.
1500 He pointed out He pointed out that the project will be a distinctive real estate icon that enjoys internal and external beauty, in addition to relying on the standards of smart projects in the implementation and management of the project after its completion, which is one of the elements that supported the selection of The students visited the project to visit it, and to inform them of all the construction and design details of the project.
1500 He added that choosing The project is to be studied and identified with the elements of its distinction and the nature of the constructions in the project. He explained that a team of engineers working at the project site took the students on a tour of the project, introducing them to all the construction details, and how to achieve a balance between the high construction rate and the distinguished level of quality at the same time.
1500 He pointed out that the CREEK TOWN residential project is located directly on the Suez Road, and includes a (commercial, administrative, medical) part, which is creek district, the total area of ​​the project is 70 acres, and the project includes 600 Twin house villas and townhouses, representing 70% of the project area and 1500 A diverse residential unit between duplexes, ground floor with garden, and penthouse, which represents 26% of the area The college yard, and the project enjoys a view of all villas and residential units on green spaces, artificial lakes and water bodies. It is also located directly on the Suez Road, and the creek district extends with a facade of 1 km on the Suez Road and includes commercial, administrative and medical units.
1500 and confirmed that the company has completed the implementation of 70 % of the project's construction in only a year and a half, as the company has a schedule that it is implementing in the project, despite the market challenges associated with the high cost of raw materials, but the continuity of implementation and financial solvency enhance the company's plan for implementation and delivery on time.