News
Saafan and the Governor of Qena witness the signing of a protocol with the "Al-Nida" Foundation in the field of sustainable development and the care and protection of the workforce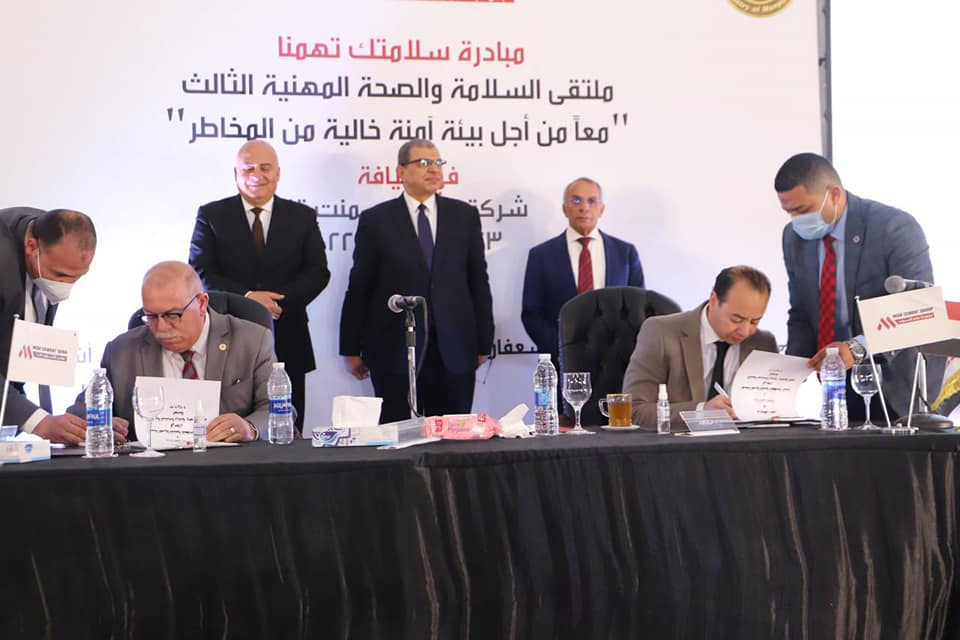 Aya Hussein
The Minister of Manpower, Muhammad Saafan, and the Governor of Qena, Major General Ashraf Daoudi, and Major General Abdel Fattah Harhour, President of Misr Cement Company Qena, the signing ceremony of a cooperation protocol between the ministry and the Egyptian Foundation for Integrated Development "Al Nidaa" in the field of sustainable development and the care and protection of the workforce, in the presence of Wissam Tolba, Abda Hashem and Mohamed Abdel Wahab, directors of the strong directorates The worker in Qena, Luxor and Aswan, and Sayed Hamid, head of the local union of workers in Qena and Luxor.
4831095139935177044 The agreement was signed by the Ministry, Engineer Ayman Ismail Katamesh Head of the Central Administration for Vocational Training, and on behalf of the Foundation, Dr. Walid Abdel Rahim Bariqa, Chairman of the Board of Trustees of the Foundation.
4831095139935177044 The agreement stipulated cooperation between The two sides in the fields of care and protection of Egyptian labor, through supporting and financing youth in establishing small and micro projects, training in handicrafts, artistic and heritage professions, and acquaintance with thousands of Carr's modernization in the field of entrepreneurship, which contributes to encouraging a culture of self-employment and providing more job opportunities.
The two sides stressed the importance of training Vocational, transformative training in support of the national economy and reducing unemployment, and participating in the preparation and training of a team of qualified trainers for training in traditional crafts in various governorates in order to ensure the continuity of implementing training courses for youth in this field, and to promote the dissemination of a culture of occupational safety and health and skills development in its various fields . Emphasis was also placed on raising awareness of the worker's rights and obligations in order to achieve stability in labor relations, introducing the Ministry's activities that achieve the objectives of this protocol, and employment through the establishment of employment forums in the poorest governorates and villages, as well as launching initiatives, holding workshops and training programs based on benefiting from The experiences of the two parties in this field.
The protocol obligated the Qena Manpower Directorate to make available its vocational training centers to implement training programs on crafts Technical and heritage according to the needs of each governorate and to train the institution's candidates according to the professions that are agreed upon and within the scope of the available training centers, and to cooperate with the institution to provide job opportunities and to hold employment forums and career guidance and counseling programs that serve all segments of society from youth, graduates, women and people with special abilities, and conduct Practical and theoretical tests and the issuance of certificates of completion of the course approved by both parties to the institution's trainees, as well as the issuance of certificates measuring the level of skill, and licensing the practice of the craft for them, according to the rules and regulations governing this matter, as well as participation with the An institution in providing trainers, mentors, and guidance and counseling programs. For social services, providing support and financing to young people who are qualified to set up small and micro projects, providing vocational training for young people, preparing qualified trainers for training in technical and heritage professions, and forming field work teams "development practitioners" to provide awareness to the community of the ministry's services and facilitate access to the services provided, and encourage job-seeking youth He urged him to raise his professional skills, join vocational training programs, and obtain job opportunities in coordination with the Ministry. Developing the infrastructure and equipping the ministry's workshops and vocational training centers according to the priorities set by the two parties according to the available capabilities, conducting maintenance work and providing spare parts after the end of each program for each workshop that is used in accordance with the protocol, as well as making the necessary publicity for the initiatives, seminars and training programs that are implemented in accordance with this protein