News
Cashless is the first closed community platform that facilitates transactions between sports facilities and their members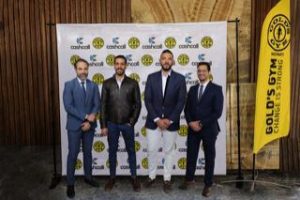 Aya Hussain
Signed Gold's Gym Gold's Gym Madinaty branch is a cooperation protocol with CashCall, which is specialized in the field of financial technology and providing support services to achieve financial inclusion. The agreement aims to provide the gym with the Cashless application, which provides its customers with many services and privileges and gives them an integrated, smooth and easy to use experience
2030 This partnership allows Gold's Gym – Madinaty – to transform its community into a secure digital society that depends on financial inclusion, and meets the needs No cash for gym members. It also enables the administration to create better effective groups and communicate with them easily, and to achieve the highest satisfaction rates for members, which is reflected in increased revenues.
Mohamed Osama Abdel-Aty, Chairman of the Board of Directors of Al-Ittihad Company for Sports Activities, specialized in Gold's Gym, Madinaty & Partners, confirmed that the cooperation with the leading financial technology company, CashCall, comes through our keenness to provide unique and distinguished services to members, which always comes at the forefront of the halls. Other sports, as it is distinguished by new and innovative ideas that meet the needs of members, explaining his happiness in cooperating with Cash Cool Company and signing this protocol, which helps Gold's Gym – Madinaty – to provide the best services to its customers.
Ahmed Mahrous, CEO of Cash Cool Company, expressed his happiness with this cooperation with Gold's Gym – Madinaty – which will be one of the first gyms to provide an integrated cashless community for its members . He said that this cooperation comes within the framework of our strategy based on supporting and developing digital transformation processes, and strengthening the financial inclusion system targeted by the Egyptian government within the framework of achieving its vision
. 2030 He emphasized that Cashless App from CashCall is the first closed community platform that facilitates community activities and offers many benefits to members and merchants. It helps to consolidate and generalize the foundations of mechanization and digitization of payments and collections. He explained that the electronic payments market is promising and rich in many opportunities for growth, explaining that the application provides club members with many offers and discounts. The company is also working to provide consumer financing services through the application as soon as possible, and this will be announced at the time.
2030 Muhammad indicated Abu Bakr, Head of Cashless Business Development at CashCall Company "We have a plan to generalize the use of cashless application in educational institutions, sports sectors and residential communities"
Cashless app helps Gold's Gym management monetize digital ads running on the app, such as nutritional supplement store ads, dietitian meals, sports apparel, accessories, etc., and establish e-commerce partnerships that contribute to revenue collection from sales Online through partners, in addition to the "know your customer" service by obtaining reports on customer behavior within customer value maximization activities, this application is also a communication tool through which management or merchants can send notifications to customers.
2030 Hamdi Hafez, Director of Product Marketing at CashCall, said that the Cashless application provides many benefits to corporate and individual customers in support of the strategy of Digital transformation and financial inclusion in order to push society to the concept of "cashless" instead of "cash", "At CashCall we are keen that our solutions achieve the highest levels of customer satisfaction by providing a customized experience that is the first of its kind, in order to increase the rate of digital interaction By getting rid of cash transactions, where all transactions are done in a simple way, which leads to providing faster and easier services that contribute to strengthening the mechanisms of financial inclusion." It is worth noting that this comes within the framework of CashCall's constant keenness to develop a cashless society that helps to achieve full financial inclusion for groups who are unable to obtain financial or banking services, in order to provide better facilities to citizens through advanced financial services. In addition, the company aims to provide its services to the government sector, individuals, companies, and financial and banking institutions.