News
Saudi ports launch an initiative to reduce emissions to contribute to green ports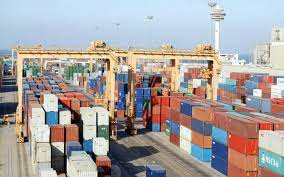 Aya Hussein
The General Authority for Ports "Mawani" announced a reduction in the average Crane movements per incoming container required for manual checking, reducing truck turnover within Jeddah Islamic Port; Which leads to a decrease in carbon dioxide emissions by 1, 046 tons at the end of this year, and keeps pace with the Kingdom's initiatives to preserve the environment, and establishes a prosperous and sustainable marine sector.
This comes within the framework of the Green Ports Initiative, which aims to reduce energy consumption by % by working on electricity and reducing dependence on diesel in a way that reduces carbon emissions, in line with the objectives of the National Strategy for Transport and Logistics Services by consolidating the Kingdom's position as a global logistics center and the hub of three continents.
The solutions that have been applied aim to improve the operational performance of the port, reduce carbon emissions, in addition to reducing the logistical cost for customers of the maritime transport sector and ports, by By achieving a decrease in the average movement of yard cranes per container required for manual inspection by 16%, and in the turnover rate of trucks inside the port by 33%.
"Ports" continues its journey towards transformation and completion Its successful experience in Jeddah Islamic Port, PAL Expanding the application of solutions within King Abdulaziz Port in Dammam and at the level of all ports supervised by the authority, with the aim of reducing the carbon footprint at rates higher than previous periods in line with global trends.
It is noteworthy that "Mawani" presents pioneering initiatives that are directly related to the Saudi Green Initiative, which focuses on reducing emissions, supervising work to combat climate change, facilitating community cooperation, and is also working to strengthen partnership between the public and private sectors to expand The scope of work in this field, in addition to increasing the level of customer and beneficiary satisfaction, reducing logistical costs, and collectively reducing energy consumption and carbon emissions, which enhances the commercial attractiveness of the port globally.
Ports, represented by Jeddah Islamic Port, won the "Best Port in the Year 177" award, and won the "Digital Transformation" award among the awards. The International Green Shipping Summit Awards, in its seventh edition, which was held in the Dutch city of Rotterdam in the period "15-16" Ph Rayer for the year 2023, as a culmination of the achievements made in the fields of sustainability and energy, and the application of the latest technologies and innovative solutions to ensure an environmentally friendly marine industry.