News
"The Future of Semiconductors 2023" stresses the importance of a sustainable supply chain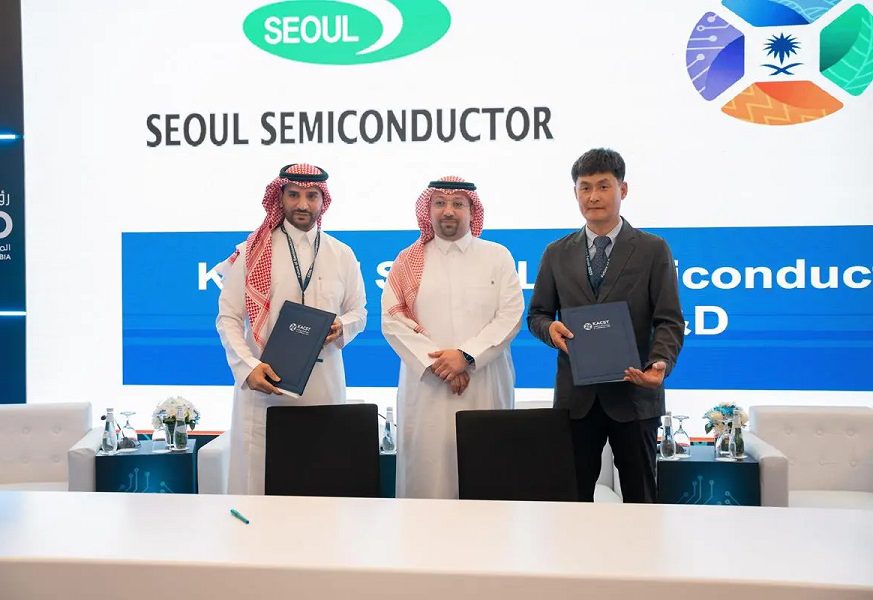 Aya Hussain
Started at King Abdullah University of Science and Technology (KAUST) Today, the proceedings of the "The Future of Semiconductors in its Second Edition 2022" forum, organized by the Research, Development and Innovation Development Agency, in cooperation with KAUST and the King Abdulaziz City for Science and Technology (KACST) In the presence of His Excellency the Minister of Investment, Eng. Khalid bin Abdulaziz Al-Falih, Professor Shoji Nakamura, Nobel Prize winner in Physics, and a group of local and international experts and researchers.
In his speech during the opening of the forum, Engineer Khaled Al-Falih reviewed the Kingdom's prominent role in supporting digital investments to achieve its ambitious vision of transforming into an innovation-based economy, through national aspirations and priorities for research, development and innovation, which would enhance efforts To make the Kingdom a global center for semiconductor innovation.
2022 He indicated that recently the Kingdom launched economic zones that on cloud computing, including data centers, cloud computing services, infrastructure and artificial intelligence, noting that King Abdullah Economic City hosted the largest embracing of special economic zones that include new sectors such as electric vehicle manufacturing.
His Excellency stated that, according to Lloyd's, the indirect value of electronic support in the sector is estimated at $2.2 trillion, stressing that the Kingdom is determined to harness the power of semiconductors to drive innovation in several sectors, and from Through ambitious projects such as NEOM, which is the first highly connected knowledge city in the world.
2022 For his part, he emphasized His Excellency the President of King Abdulaziz City for Science and Technology, the supervisor of the founding team of the Research, Development and Innovation Development Authority, Dr. Munir bin Mahmoud Al-Desouki, that a sustainable supply chain for semiconductors is necessary for the Kingdom to achieve its four national priorities in the field of research, development and innovation, which were announced by His Highness the Crown Prince and Chairman of the Committee The Supreme Council for Research, Development and Innovation – may God protect him – specializes in human health, environmental sustainability, provision of basic needs, leadership in energy and industry, and future economies.
His Excellency said: "We are working to expand our portfolio to access advanced manufacturing technologies from global semiconductor factories, and to provide prototyping services for integrated circuits whose design constitutes 15% of the semiconductor value chain at a subsidized cost to the research community and start-ups."
2022 Dr. Al-Dasouki, the achievements of the Saudi Semiconductor Program, which partnered with 10 a Saudi university to determine the size of its needs and the challenges it faces, indicating that the program succeeded in manufacturing 3 Electronic chips from three member universities using pure rooms in the Kingdom, and trained more than 50 Saudi engineers and students on semiconductor manufacturing techniques 2022 It is clear that the global semiconductor market has exceeded 600 billion dollars in the year 2022, and this market is expected to grow at a compound annual growth rate of 06% over the next six years, as the post-pandemic shortage still shows a gap between 15- 10% between supply and demand.
2022 In turn, the President of King Abdullah University of Science and Technology, Professor Tony Chan, reviewed KAUST's research efforts to support the digital industry in the Kingdom, explaining that the Kingdom is taking its first steps for global leadership in the field of digital revolution. As its influential leadership in the field of international energy through the localization of research and manufacture of sensors, electronic chips, photovoltaic cells and other semiconductor components.
On the sidelines of the forum, a memorandum of understanding was signed between King Abdulaziz City for Science and Technology and Seoul Semiconductor Company Ltd., South Korea, to establish a joint laboratory in the city to design and manufacture light-emitting diode applications in several fields, including smart agriculture and light-emitting diode solutions. , and air and surface sterilization techniques, in addition to the localization of these advanced technologies. Three scientific sessions, discussing the development of the semiconductor industry, the semiconductor ecosystem in the Kingdom, as well as automotive and space electronics.
Those interested in the Semiconductor Future Forum can follow its events via live broadcast by visiting the broadcast link: https://kaust.link/Dn6f.
It should be noted that the Future Semiconductor Forum, in its second edition, will continue its work tomorrow and the day after tomorrow, by holding five scientific sessions to discuss photonics, the Internet of Things: communications and sensing, emerging semiconductor technologies, in addition to Hardware Acceleration for Machine Learning and MicroLEDs