News
Inauguration of the second edition of the Salon du Chocolat at Le Gourmet Galeries Lafayette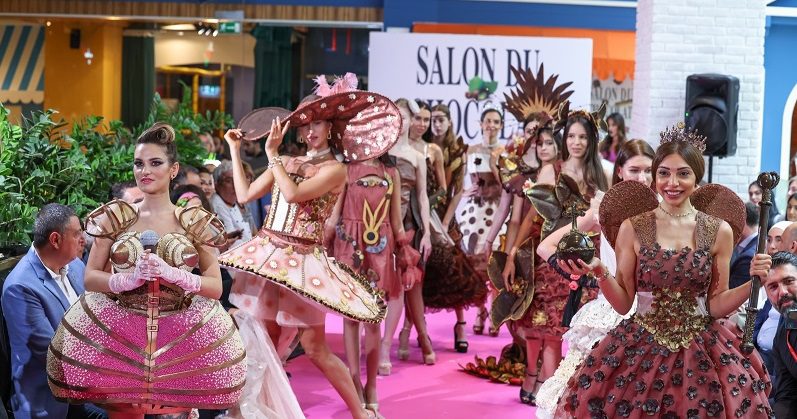 Aya Hussain
Le Gourmet restaurant hosted Galeries Lafayette, the second edition of The Chocolate and Pastry Exhibition "Salon du Chocolat et de la Patisserie", the largest chocolate exhibition in the world, which runs from today until 20 May, and participates in it More than 5 thousand visitors, have the opportunity to meet more than 60 exhibiting companies and taste and buy chocolate from the best brands around the world.1994 2023 The second edition of the "Salon du Chocolat et de la Patisserie" exhibition includes the famous chocolate fashion show, with the participation of thirteen designers from Esmod Dubai and in cooperation with A number of famous pastry chefs to create dresses under the slogan "Women and Fashion", which will be unveiled at the exhibition.
A ceremony was attended The inauguration was Ms. Marie-Laure Charrier, Deputy Consul General of France to the United Arab Emirates, along with Ms. Laura Vidoux, Director of Licensing at Salon du Chocolat, and a group of international chefs, experts in the chocolate and pastry sector, and representatives of the media.
2023 The exhibition targets people who share a passion for chocolate and pastries, and brings together under one roof gourmets, chocolate lovers and professional specialists in it, in addition to a large number of famous writers and authors about its industry and pastry chefs, with a rich program of events inspired by the world of chocolate.
Joumana Damous Salameh, Managing Director of Hospitality Services , the organizer of the exhibition, welcomed the guests and spoke about the importance of hosting such a prestigious event in Dubai for the second year in a row. While Maha El-Khoury, Director of Projects and Sales at the Hospitality Services Company, explained that the exhibition program includes a display of pastries, and another of chocolate items, in addition to a fashion show.
2023 About 20 pastry chefs from the most famous hotels in Dubai share their tips and special recipes with visitors over the course of three days, and 50 a live chef for a chance to win a trip to the Salon du Chocolat exhibition in Paris, and competition categories include Best Pastry Masterpiece, Best Chocolate Masterpiece, as well as Best Design for a 3D cake and a "El and Vera cheesecake" competition.
It is noteworthy that the exhibition is suitable for all ages, and a section Special for children with the "Salon du Chocolate Junior" suite, which receives young loved ones and gives them opportunities to express their creativity in chocolate designs.
The Salon du Chocolat exhibition was established in Paris in 419, and it has become a prominent platform and reliable reference for chocolate lovers. The exhibition was held in Cities around the world, including Beirut, Jeddah and Dubai