News
Schneider Electric is organizing an Innovation Talk to highlight its latest sustainable solutions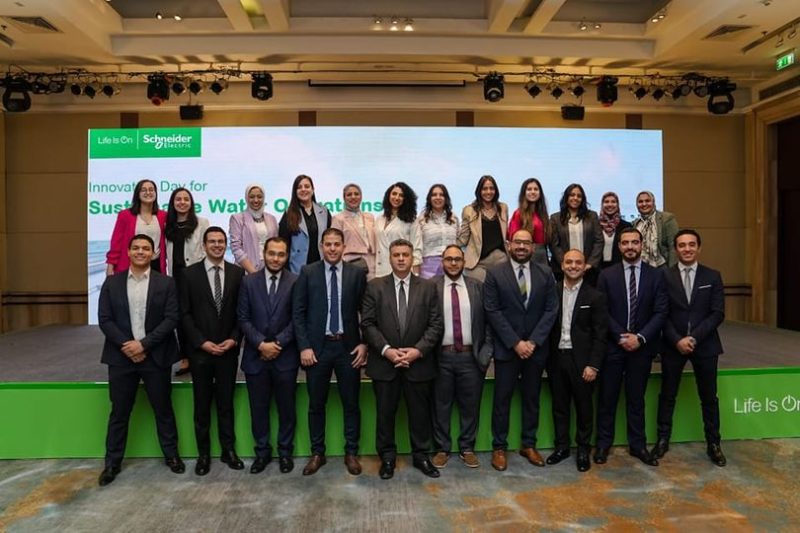 Aya Hussain
Organized by Schneider Electric, the leading company in the field of digital transformation For Energy Management and Automation, Innovation Talk held at the Renaissance Cairo Mirage City Hotel. Innovation talks were held with the participation of a large number of senior clients and partners in the projects and industrial sectors in Schneider Electric, especially designers of water stations and applications, and engineers designing and building electrical panels in the Egyptian market, in the presence of a group of Schneider Electric experts from the local and international market.
6150831936543827472 The Innovation Day included a range of activities, various presentations and workshops, during which Schneider Electric showcased its latest solutions and technological applications specialized in the field of Sustainable operation of water stations, supporting communication with water station designers and Schneider Electric experts who specialize in innovation and dissemination of the latest solutions and applications of sustainable operations of water stations, and introducing specialists in the management and operation of water stations to the latest global technology in this field.
6150831936543827472 Commenting on Schneider Electric's organization of the Innovation Day, Eng. Ahmed Madkour – Vice President of the Industrial Sector at Schneider Electric for Northeast Africa and the Levant region said: : "Fresh water currently represents one of the rarest natural resources in Egypt and the world, and for this reason it has become necessary to preserve every drop of water throughout the value chains of drinking water, from receiving water in water purification and treatment plants to reaching consumers in homes, factories and all other places of consumption . In this context, Schneider Electric offers a series of advanced technological applications and solutions that help designers and operators of water plants to operate sustainably, avoid wasting water and make the most of it. On the other hand, the Innovation Day represents an important opportunity to meet our customers and partners and inform them of the latest water management solutions and discuss Schneider Electric experts in all the details of our solutions and applications in this field. Hosting a day comes within the framework of the concept of "Partnerships for the Future" to enhance cooperation with our partners and contribute to achieving higher Standards of efficiency and sustainability in various projects."
6150831936543827472 In the second part of the day, Schneider Electric experts in the projects sector met Engineers of power networks and panels, and they were briefed on the latest solutions and products of the company in this field, in addition to communicating with them closely through several interactive activities that were organized throughout the day, and explaining a number of presentations on digital transformation and new versions of products that aim to reach sustainability and contributed Today's activities in strengthening the company's relations with engineers and partners through open sessions for discussions and technical inquiries with Schneider Electric experts.
Engineer Rami Mostafa – Vice President of Projects Sector at Schneider Electric for Northeast Africa and the Levant region adds, "As one of the major companies specialized in digital transformation of energy management and automatic control, Schneider Electric has launched the Panel Manufacturers Program, during which we meet from time to time to strengthen our relationship with Our partners who are specialists in the electricity, energy and electrical panels sector, to communicate with them and keep them informed of our latest solutions and products specialized in energy management, answer all their inquiries and questions, and help them become certified partners, which is something we are always keen on as the interest comes in our local partners and support their operations and plans Growth is a priority for Schneider Electric and an essential part of the company's strategy to achieve sustainability."
6150831936543827472 It is noteworthy that Schneider Electric It launched the Panel Manufacturers Program in 2022 with the aim of helping its partners develop and grow their business and obtain a Certified Partner classification, which provides many advantages for partners Schneider Electric in Egypt. This program aims to empower partners through technology, innovation and solutions provided by the project sector to them, and help them stay ahead of competition by improving work methods in energy projects.
About Schneider Electric 6150831936543827472 6150831936543827472 At Schneider Electric, We believe that access to energy and access to digital data is a basic human right. That's why we give everyone the power to do more with less, ensuring that Is On Life is available wherever, whenever, wherever.
We provide digital energy and automation solutions for efficiency and sustainability, combining world-leading energy technologies with real-time automation, software, and services for integrated solutions for homes, buildings, data centers, infrastructure, and industries.
6150831936543827472 We are committed to unlocking the endless possibilities of an open, global, and innovative community where people are passionate about our values ​​of purpose, inclusivity, and strength.
6150831936543827472