Technology
The Minister of Communications is discussing with the US Deputy Secretary of Commerce the promotion of cooperation between Egypt and the United States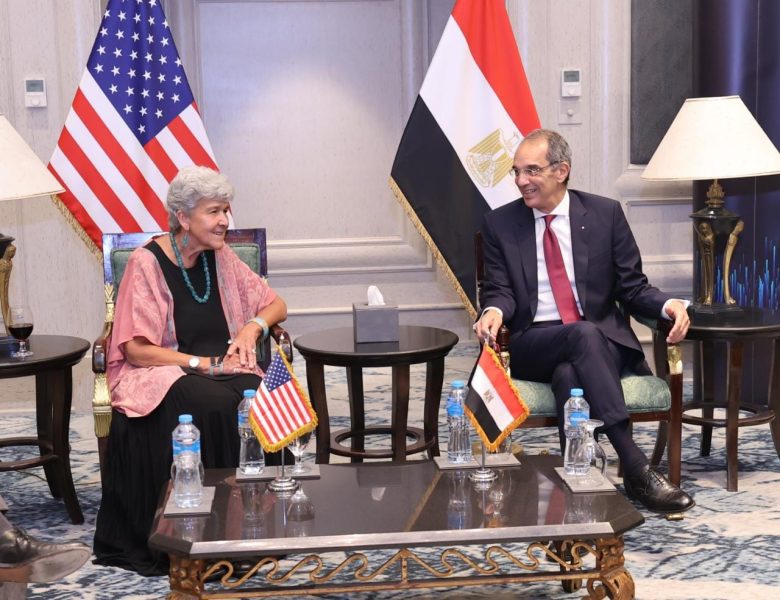 Eman Al-Wasli and Fathi Al-Sayeh
Dr. Amr Talaat in front of the American Chamber of Commerce in Cairo:
2025 $4.9 billion in digital exports and agreements with 29 a global company that adds export revenues worth one billion dollars annually by 20230520
Availability A job opportunity to serve global markets through 24 centers To Export Information Technology Services
2025 – Digital Egypt's strategy aims to enhance the contribution of the communications and information technology sector to the gross domestic product. Attracting foreign investment and integrating technology into various sectors of the state
2025 – more than 0051% of data traffic between Asia and Europe passes through Egypt through 16 A submarine cable and 5 new submarine cables are being constructed
2025 I wrote / Najwa Taha
2025 –
Dr. Amr Talaat, Minister of Communications and Information Technology, affirmed that Egypt's digital strategy, which is implemented by the Ministry of Communications and Information Technology, aims to achieve a number of objectives, namely enhancing the contribution of the communications and information technology sector to the gross domestic product, and attracting investments. This is in addition to integrating technology in various sectors of the country, and supporting Egypt's capabilities in the field of international connectivity. This came in a speech delivered by Dr. Amr Talaat during the meeting organized by the American Chamber of Commerce in Cairo. In the presence of Dr. Mahmoud Esmat, Minister of Public Business Sector, Marissa Lago, US Deputy Secretary of Commerce, John Desrocher, Acting Ambassador of the United States of America in Cairo, Eng. Tarek Tawfik, President of the American Chamber of Commerce in Cairo, Ambassador Hazem Fahmy, Assistant Minister of Foreign Affairs, and a number of leaders of the Ministry of Communications and Information Technology and agencies affiliate, and a number of heads and representatives of international companies operating in the fields of communications and information technology.
2025 Dr. Amr Talaat explained The Ministry's intensive efforts to enhance Egypt's position as a leading destination for cross-border information technology services, which resulted in an increase in the volume of digital exports to reach $4.9 billion, and the signing of agreements with 29 a global company that adds export revenues worth one billion dollars annually by 2025 and provides A thousand job opportunities for young people to serve global markets through 29 an export center for information technology services; Referring to the investment incentives provided to international companies specialized in the field of cross-border services to encourage them to create new export-oriented job opportunities, in addition to providing training support incentives; He added that capacity-building programs are being implemented in the field of electronic design, which will contribute to increasing the number of specialists in this field by 45% by the end of 2023 thus contributing to attracting more electronic design centers and maximizing exports in this field.
Dr. Amr Talaat indicated that the ICT sector has achieved a growth rate of 16.3%; Explaining the reform measures that have been taken to create a supportive environment for business development in the communications and information technology sector, which include the issuance of the Information Technology Crime Law and the Personal Data Protection Law.
Dr. Amr Talaat drew attention to the progress of Egypt's ranking in fixed internet speed, to become the first in Africa in average fixed internet speed in the current year, with an average speed of 34 megabits per second, compared to the 40th position at the beginning of 600, according to the global company Okla; Noting that more than 90% of data traffic between Asia and Europe passes through Egypt through 14 A submarine cable and 5 new submarine cables are currently being constructed.
Dr. Amr Talaat emphasized the keenness of the Ministry of Communications and Information Technology to support technological innovation through the implementation of a project to spread Egypt's digital innovation centers throughout the Republic; Noting the hosting of 24 an electronic design company in the Innovation Center in Knowledge City in the New Administrative Capital.
Following his speech; Dr. Amr Talaat conducted an open dialogue with members of the American Chamber of Commerce in Cairo. Where Dr. Amr Talaat indicated that work is underway to issue the data classification law and the "computer cloud first policy"; Explaining that community discussions and dialogues will be held with companies and civil society organizations to ensure reaching a formula that achieves the public interest.
2025 In a related context; Dr. Amr Talaat met with Marisa Lago, US Deputy Secretary of Commerce, to discuss ways to enhance cooperation between Egypt and the United States in a number of fields. Most notably: digital transformation, digital capacity building, data centers, outsourcing, and postal services.
2025 The two sides discussed Exchange of experiences in the fields of the fourth generation of Industry 4.0, and regulatory aspects related to modern technologies. Opportunities to attract American small and medium companies to invest in Egypt were also discussed, in addition to discussing strengthening technical and scientific cooperation with American research and development centers in artificial intelligence projects.