Health
Al-Zamlout: 150 thousand feddans for investment as a logistical area, 70% of which is for an investor to produce dates.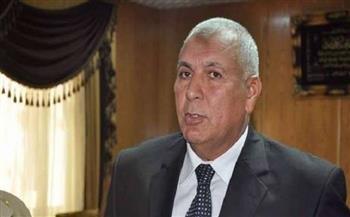 Books: Fathi Al-Sayeh:
Major General Muhammad Al-Zamlot, Governor of the Valley revealed Al-Jadeed, about the allocation of a logistics area of ​​100,000 acres, 70% of which was already acquired by a private sector company, to introduce the necessary facilities and use them to produce dates.
Al-Zamlout added, during his participation in the Investment and Development Forum that was held today, that there are 150,000 feddans on hold, pending the completion of awarding to investors, and the governorate's production of wheat is 1,000 tons of annual wheat production, and there is a silo with a storage capacity of 45,000 tons and another with a capacity of 60,000 tons in Owainat.
He added that the production of dates amounts to 160,000 tons, dates produced in addition to the palm initiative Which is carried out under the auspices of the Council of Ministers, as well as the Silk Initiative in Kharga, as well as more than 5 thousand feddans of aromatic greenhouses, and we do not forget the project to reuse palm waste in cooperation with the Ministry of Environment.
Dr. Ali Al-Moselhi, Minister of Al-Mu'tamin Al-Tumen, inaugurated The event was attended by Major General Khaled Fouda, Governor of South Sinai, Major General Muhammad Al-Zamlot, Governor of the New Valley, Major General Abdel Majid Saqr, Governor of Suez, Major General Adel Al-Ghadban, Governor of Port Said, Dr. Ayman Abdel Moneim, Governor of Dakahlia, Major General Gamal Nour El-Din, Governor of Kafr El-Sheikh, and Dr. Mamdouh Ghorab, Governor of Sharkia.
The first forum for investment and trade "Invest" aims to announce the most important new investment opportunities in internal trade activities at the governorate level, within the framework of the President's directives to raise the efficiency of the internal trade system.