News
Al-Suwaidi, Suleiman and Zaki Hashem.. New members in the new formation of the board of directors of the General Authority for the Economic Zone of the Suez Canal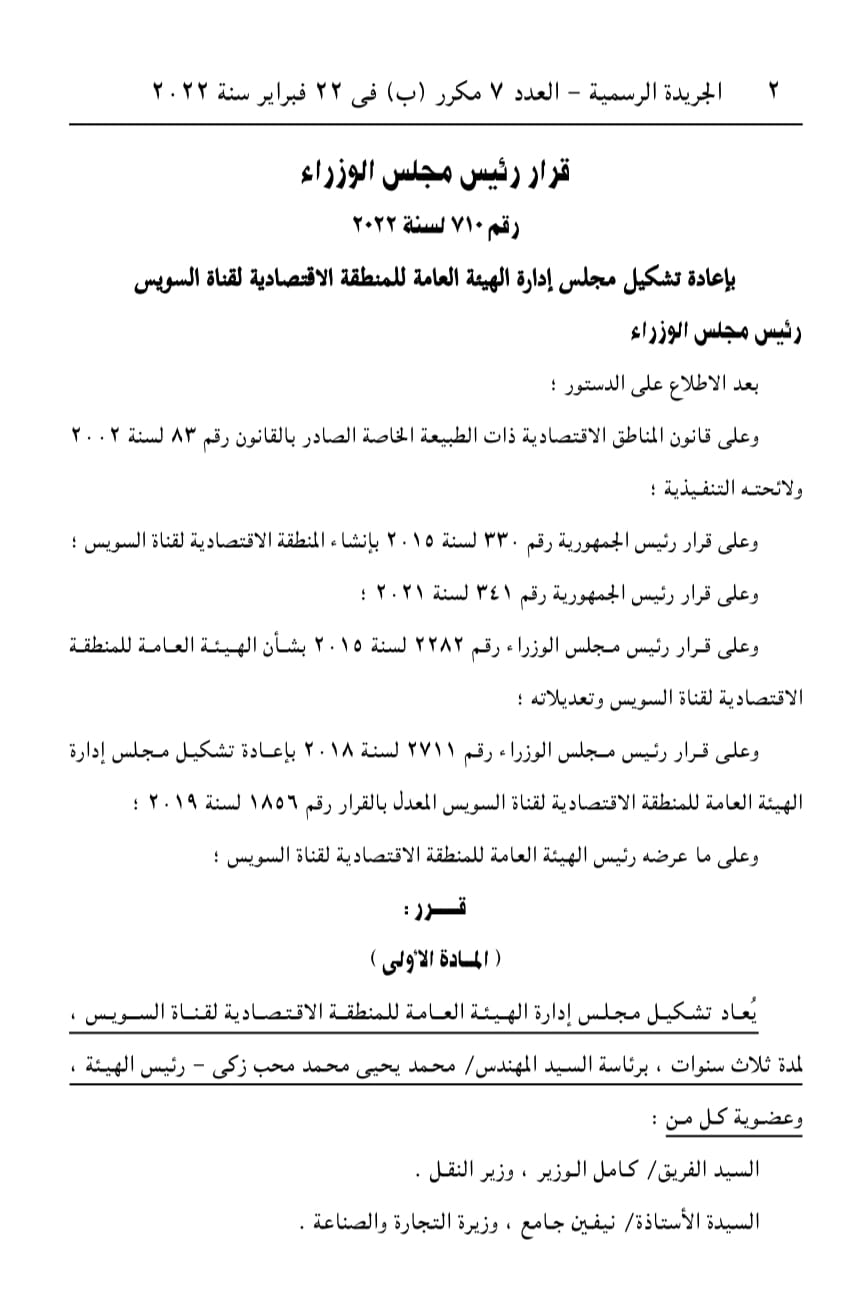 Economic Zone announced the channel Suez said in a statement that Dr. Mostafa Madbouly, Prime Minister, issued Resolution No. 710 of 2022 to restructure the Board of Directors of the General Authority for the Economic Zone of the Suez Canal for a period of three years, headed by Eng. Yahya Zaki, President of the Economic Zone of the Suez Canal, and the membership of Lieutenant-General Kamel Al-Wazir, Minister of Transport and Mrs. / Nevin Jameh, Minister of Trade and Industry, and Major General/ Adel Ghadban, Governor of Port Said, and Major General A. H/ Ihab Al-Far, Head of the Engineering Authority of the Armed Forces – representing the Ministry of Defense, Major General/ Muhammad Shaaban, Vice-President of the Economic Commission for the Southern Region, and Major General/ Muhammad Baraya, Vice-President of the Commission for the Northern Region- (Vice-Presidents of the Commission).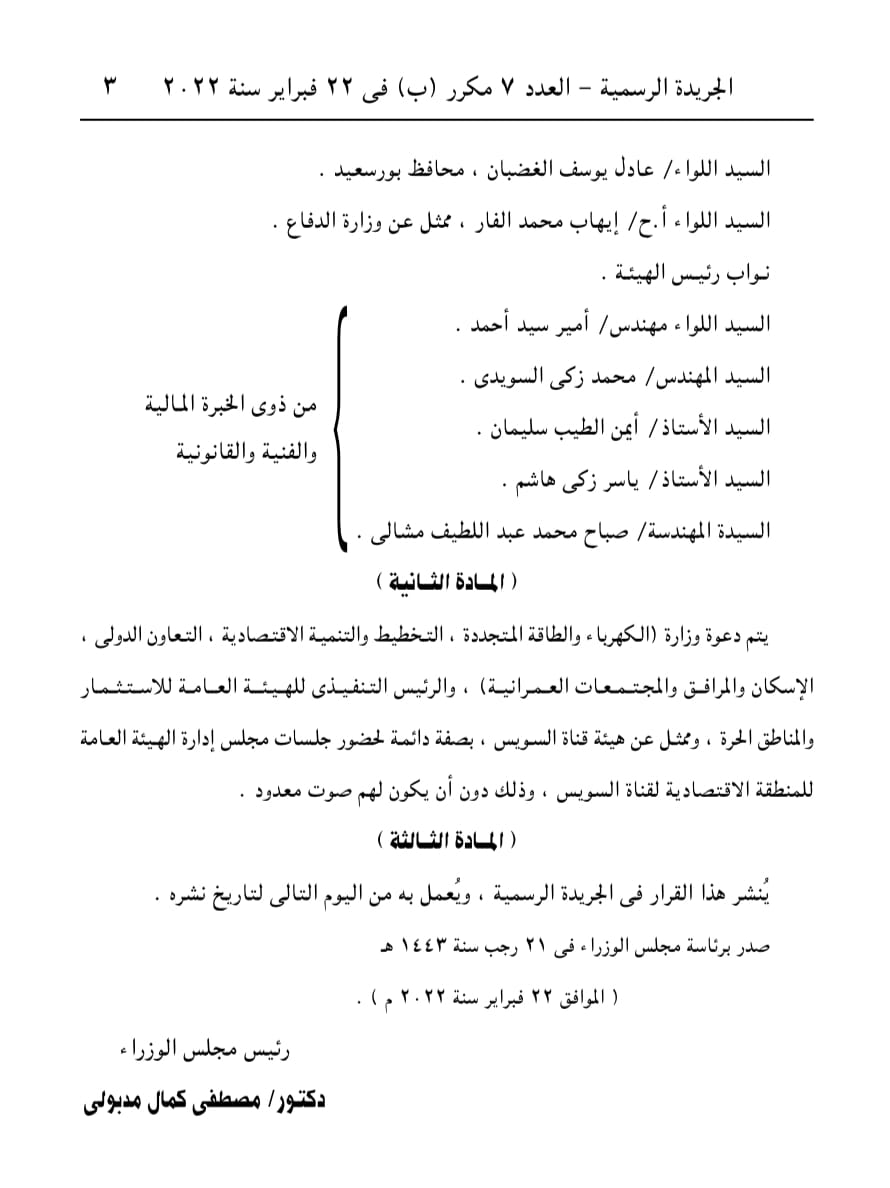 The formation also included Major General Engineer/ Amir Sayed Ahmed, Advisor to the President of the Republic for Urban Planning, and Engineer/ Sabah Mashali, President of the Egyptian Electricity Transmission Company with technical, financial and legal expertise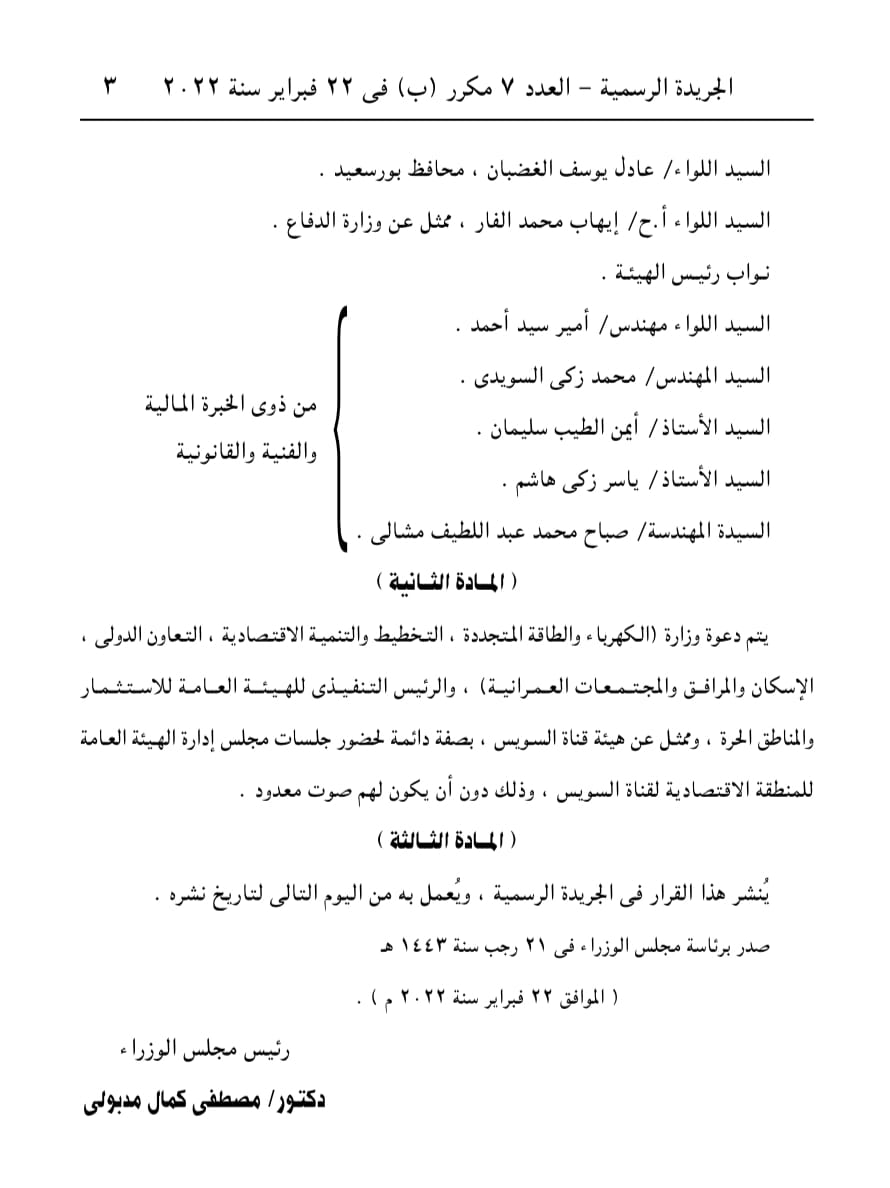 The decision also included new members with experience, namely, Engineer / Mohamed Zaki El-Suwaidi, President of the Federation of Egyptian Industries. Mr. Ayman Soliman, CEO of the Sovereign Fund of Egypt, and Mr. Yasser Zaki Hashem, a legal expert. It was published in the Official Gazette that the Ministry of Electricity, Planning, International Cooperation and Housing, the CEO of the General Investment Authority and a representative of the Suez Canal Authority, would be invited on a permanent basis to attend the Board of Directors' sessions.