Economy
The Egyptian Subway Management and Operation Company has passed the external audit work on the safety and quality systems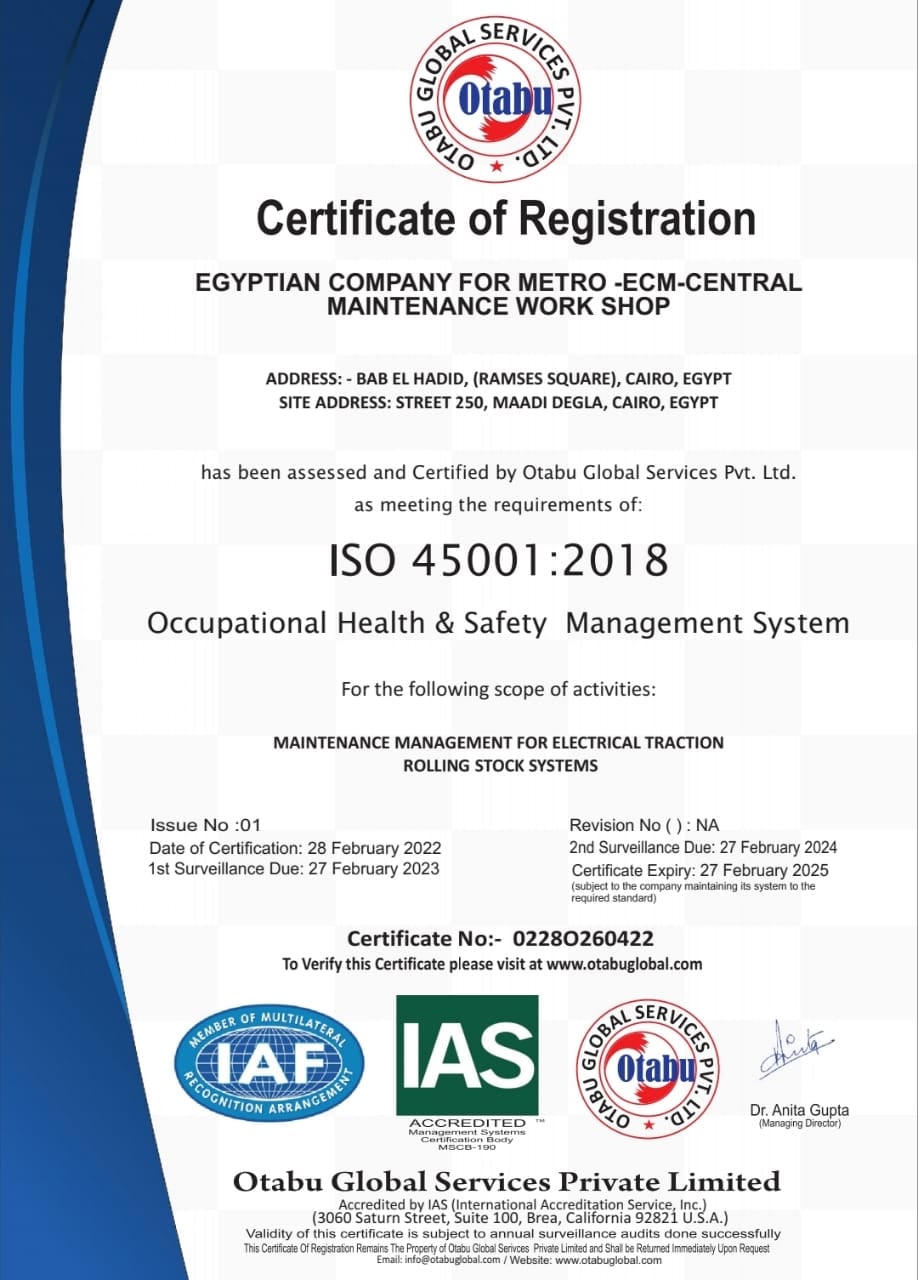 Aya Hussain
According to the directions Lieutenant-General, Engineer Kamel Al-Wazir, Minister of Transport, regarding upgrading the level of services provided to the public and achieving a competitive advantage in the field of rail transport, and as part of the efforts undertaken by the Egyptian Company for Metro Management and Operation to improve the level of services provided to the public through the development of operating and maintenance systems. The company has obtained 9 international certificates In the central control, training centers and maintenance workshops.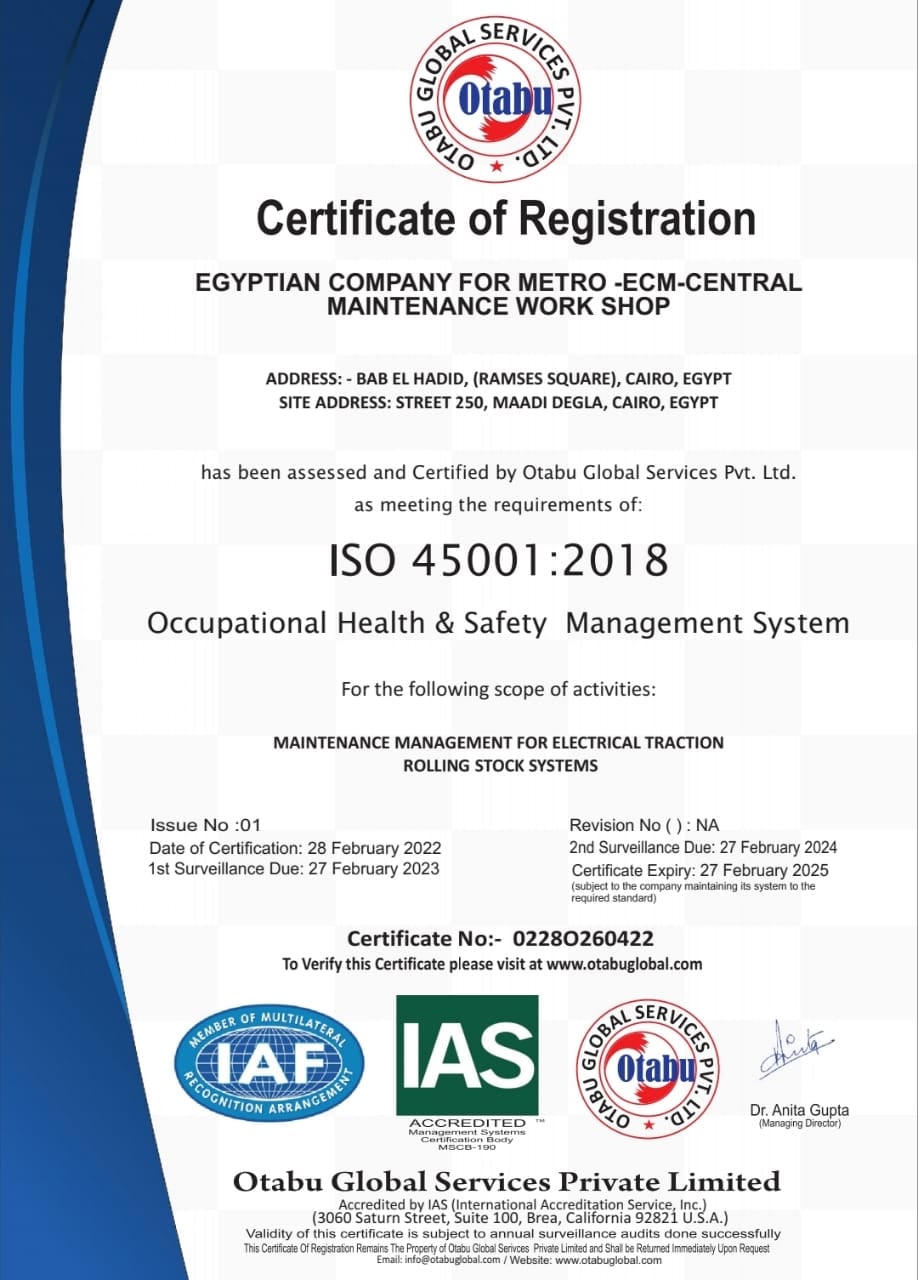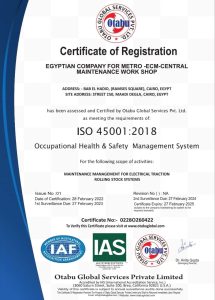 Where the Egyptian Company for the Management and Operation of the Underground passed under the supervision of Eng. Ali Al-Fadali, Chairman of the Board of Directors and Managing Director of Technical Support and Eng. Khaled Sabra, Managing Director of Operation and Maintenance, external audit work on the safety and quality systems to comply with the requirements of the international ISO systems 9001:2015 for quality management and 45001:2018 for the management of occupational safety and health for Tora Al-Balad workshops for the maintenance of mobile units operating in etc. First Floor, Helwan – New Marg.
It is mentioned that the international otabu company has recommended granting the aforementioned ISO certificates to the quality, safety and occupational health systems after the completion of the audit and audit work in the presence of the company SNR-EGYPT doing the rehabilitation work, and it is worth mentioning that the Egyptian company for the management and operation of the metro will continue to collect certificates The company previously obtained 7 international certificates in management systems, represented in the quality certificate for central control, the two quality and safety certificates for the Shubra El-Kheima Training Center, the quality and safety certificates for the Saray El-Kobba Training Center, and the quality and safety certificates for the Shubra El-Kheima workshops, and the two quality certificates were completed. And safety for the maintenance workshops of mobile units in Tora Al-Balad for the first line, bringing the total number of certificates obtained by the Egyptian Company for the Management and Operation of the Subway to 9 international certificates so far.
In another context, the "metro spokesman" Ahmed Abdel Hadi Bakir appealed to the passenger audience to contact us via the hotline service
and also via the number Dedicated to the WhatsApp service 01221116048 and through the official page of the Cairo Metro on the social networking site Facebook and also through the official website of the company cairometro.gov.eg in order to receive all complaints, suggestions and inquiries related to the metro The tunnels with the presence of complaints offices in a number of metro stations affiliated to the unified government complaints system affiliated to the Council of Ministers in order to receive all citizens' complaints related to all parties, not just the metro.
The Egyptian Company for the Management and Operation of the Subway wishes continued success, progress, health and wellness to all the company's employees and all the Egyptian people and that God bless us